CIT graduate, Kieran Ward, wins Student Prize for the best Final Year Project in the subject area of Structural Engineering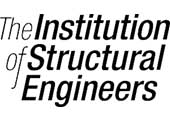 Published on: Wednesday, 24 February 2016
Kieran Ward, a 2015 graduate of the BEng (Hons) in Structural Engineering, has won the Institution of Structural Engineers (Republic of Ireland region) Student Prize for the best Final Year Project in the subject area of Structural Engineering. Kieran deservedly came out on top in a strong field of entrants from DIT, TCD, UCC, UCD, and UL.
Kieran presented his work to the adjudicating panel on 6th October 2015 and his selection as the award recipient was announced at the annual dinner of the Institution in the Grand Hall at Trinity College Dublin on 19th February 2016. The winning project was co-supervised by Kieran Ruane and John Justin Murphy - congratulations for this success. Since completing his final exams Kieran is working with ESB International.
The success is remarkable for CIT and for the Department of Civil, Structural & Environmental Engineering in that graduates of the CIT BEng (Hons) in Structural Engineering programme have now achieved success in this competition in three of the last five years.
Kieran's success follows 2014 award winner James Barry for his project Stressing Geometry Control of Cable Stayed Bridges (Supervisors - John Justin Murphy & Kieran Ruane) and 2012 award winner Gerry Murphy for his work Experimental Investigation of Foundation Solutions for Offshore Wind Turbines (Supervisor – David Cadogan). This consistent performance of the graduates is testament to the quality of student and lecturer work which is ongoing in the Department and it is reflective of a foundation which continues to provide a remarkable record of employment for graduates of the programme.
All three winning projects of recent years were based on significant and very challenging laboratory/field experimental work which was made possible by the Technical Support Staff of the School of Building and Civil Engineering; particular credit goes to Jim Morgan, Liam Jones and Maggie Shorten who continue to meet the ever increasing demands required of the experimental work underpinning the project work of our students.
Congratulations to Kieran, to supervisors Kieran Ruane and John Justin Murphy, to Course Coordinator Brian O'Rourke, and to all of the programme lecturing staff.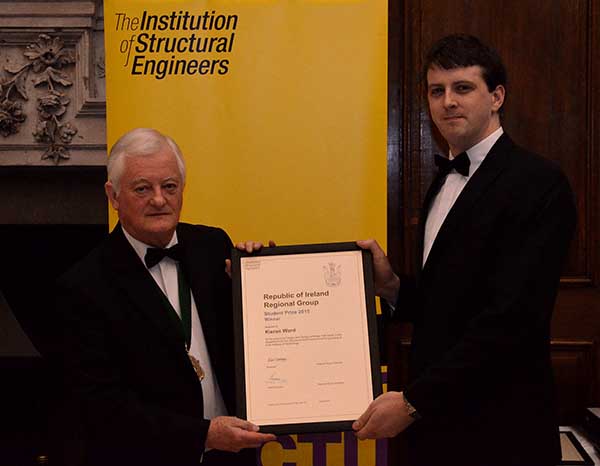 Alan RL Crossman, President of the Institution of Structural Engineers presenting the award to
Kieran Ward.