National Skills Competition 2010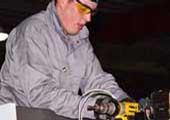 Published on: Saturday, 12 June 2010
This year CIT plays host to eleven skills …
▪ Carpentry
▪ Construction Plant Fitting
▪ Electrical Installations
▪ Industrial Control
▪ Joinery
▪ Mechatronics
▪ Metal Fabrication
▪ Plastering
▪ Refrigeration
▪ Restaurant Services
▪ Welding

Three of these competitions Plastering, Refrigeration, and Construction Plant Fitting are currently being held in the North Point Campus. A further six (Carpentry, Electrical Installations, Industrial Control, Joinery, Metal Fabrication, and Welding) will take place in the CIT Bishopstown Campus next Tuesday, Wednesday and Thursday, while the remaining two, Restaurant Services and Mechatronics will be held at the start of the next academic year.
Approximately fifty competitors from all over Ireland will compete for the Department of Education and Science silver medal in their respective skill. These competitions are open to the public and people are encouraged to visit and savour the high levels of skills on display. Possibly the best day to visit is on Wednesday 23rd June when the projects will be at an advanced stage.
Opening hours
Assessment of work
takes place in the afternoon.
Tues 22nd June & Wed 23rd June 9am-6pm
Thurs 24th June 9am-1pm
Locations for the National Skills Competitions at CIT Bishopstown Campus:
| | |
| --- | --- |
| Carpentry | Workshop A109 |
| Electrical Installations | Electrical Workshops (EA1.2 SNR) |
| Industrial Control | Electrical Workshops (EA1.2 SNR) |
| Joinery | Workshop A121 |
| Metal Fabrication | Workshop A146 |
| Welding | Workshop A144 |
---

41st WorldSkills Competition - London, United Kingdom 2011

WorldSkills is the highlight of the international skills calendar, the biennial event bringing together member countries from across the world to pit the skills of their young people against the best the world has to offer.
Please click here for more information.