Competition success for Cappella Lyrica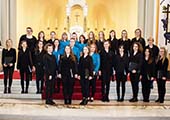 Published on: Thursday, 03 March 2016

The 11th Limerick Church Music Festival, which took place on the 26th and 27 February saw participation from choirs representing the extent choral activity at school, community and competitive level in the country. Established initially to promote plain chant, the festival now provides a platform for church choirs and also for the performance of sacred music.
Cappella Lyrica's first entry to the competitions yielded a first prize in the Sacred Music Category, second in the Early Music Competition and the coveted Dr Patrick Mc Cormack trophy for an a cappella performance. The adjudicators for the festival were Dr Ite O'Donovan, esteemed director of the Lassus Scholars andPiccolo Lasso and formerly of the Palestrina choir, and Dr Paul McKeever, organist and choral director at the University of Limerick.
Cappella Lyrica is a female-voice choir comprised exclusively of students from the BMus Programme at the CIT Cork School of Music.
The choir was formed in 2011 and regularly present first-performances of compositions by CIT staff and students, in addition to mainstream choral repertoire as well as a performance of the Nightingale and the Rose by Siobhan Lamb with the CSM Jazz Big Band at the Guinness Cork Jazz Festival.
The choir has achieved significant successes in the Cork International Choral Festival where they won 1st prize in the National Competitions in 2012, 2013, 2014 and 2015. Cappella Lyrica's conductor, Maria Judge is Head of Musicianship and Academic Studies at the CIT Cork School of Music.