CIT Structural Engineering students win HSA Third Level 'Occupational Safety and Health in Construction' Competition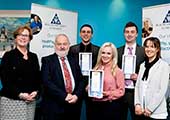 Published on: Sunday, 13 March 2016

A team comprising final year BEng(Hons) in Structural Engineering Students from CIT has won the 2016 Health and Safety Authority's Occupational Safety and Health in construction competition, aimed at undergraduate teams from construction-related programmes in Higher Education. At the final held in the HSA offices in Dublin (on Tuesday March 8th), each of the four short-listed teams were interviewed by a high level judging panel consisting of Mike McDonagh (Senior Construction Policy Inspector, HSA), Mike Keyes (Aegis Safety, Safety in Design Consultant and Third Level Education Group, HSA) and Kevin Cummins (John Sisk and Son Ltd).
The winning team was captained by Alan Hayes, with team members Anna Pietrzak and Brian Byrd, with each receiving an Apple iPad. The team mentor and departmental lecturer Dr Mary Moloney and teams from the BEng(Hons) in Structural Engineering programme have been 'knocking on the door' of success in this event in recent years and it's a great achievement for all concerned to have made the breakthrough on this occasion.
The aim of the competition is to get Students to tackle real life health and safety construction situations, and through collaboration and team work, address the many challenges posed in the project brief. This year's project was based on the rehabilitation of a Victorian sewer in the centre of Limerick City, and required Students to prepare: a safe system of work, traffic management plan and a poster to communicate the risks of working in a confined space.
The Head of the Department of Civil, Structural and Environmental Engineering in CIT, Mr Des Walsh, is very committed to integrating health and safety to the departmental engineering courses in CIT and to enhancing a Health & Safety culture in the students. The opportunity for competitions such as that by the HSA is most welcome, it is a superb learning experience for the students and is a vindication of the quality of the student skill development in the structural engineering programme.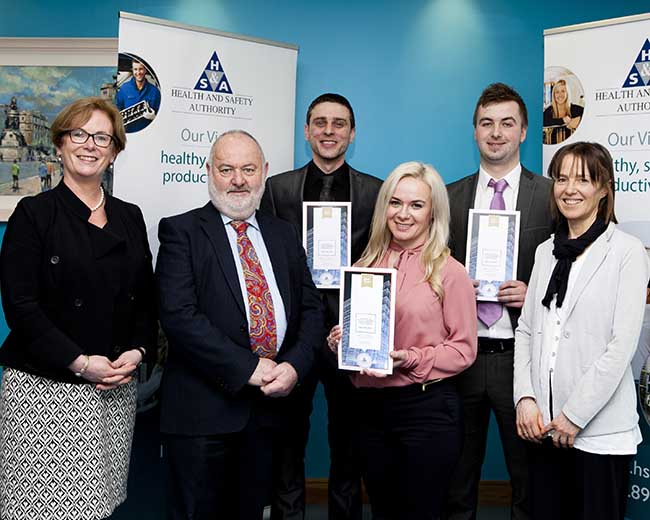 Image Credit Fennell Photography
(L - R) Dr Mary Moloney (Lecturer in the Department of Civil, Structural and Environmental Engineering, CIT), Mr Martin O'Halloran (Chief Executive HSA), Brian Byrd, Anna Pietrzack and Alan Hayes (Winning team members & final year Students BEng (Hons) Structural Engineering CIT), Dr Anne Dummond, Chairperson of the Authority's Third Level Education Group, UCD.