Affective Entities > talks & workshops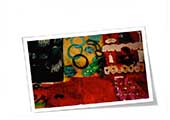 Published on: Friday, 11 March 2016

2016

As part of the current exhibition AFFECTIVE ENTITIES there will be a series of talks and workshops facilitated by the exhibiting artists. These events are free and all are welcome to attend.
SATURDAY 12 MARCH - Ballyphehane and Togher Art and Craft
2pm
The Ballyphehane and Togher Art and Craft Initiative will give a talk on Saturday 12 March at 2pm on the power of arts and crafts to bring communities together.
They will also discuss their collaboration with the artist Marie Brett for The Amulet project, "a national, multi-sited research and development project exploring the idea of the amulet as an object signifier of ethereal farewell particular to pregnancy and infant loss."
The Ballyphehane/Togher Community Arts & Crafts Initiative was established in 1995 with the support of Ballyphehane/Togher Community Development Project (CDP). They have gone from being a small group to a well-known and respected community tutors, developing Fetac modules in their craft and training tutors.
The Ballyphehane/Togher Community Arts and Crafts Initiative have supported, encouraged and worked with a diverse range of women including women with disability, women from the travelling community, older women, young lone parents, women with mental health issues, women needing an outlet for therapeutic reasons and women from the refugee and asylum seeking community. Their goal is to use the medium of arts and craft to further their education and/or improve overall health and well-being of its members.
SATURDAY 19 MARCH - Artist talk and paper making demonstration by Ann Mechelinck
2pm
Ann Mechelinck is a recent graduate of Crawford College of Art and Design. She works in a variety of materials, from fabrics to rope. She will discuss her own practice and also provide a demonstration on paper making.
SATURDAY 26 MARCH - Interactive Drawing Workshop: Pauline Gibbons, Carol Healy and Cassandra Eustace
2pm (limited capacity, booking required)
Please email ccad.gallery@cit.ie if you would like to book a place for the Interactive Drawing Workshop.