An opportunity to bid for an exhibition slot @ the Wandesford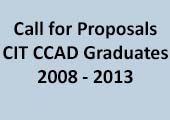 Published on: Thursday, 24 March 2016
Full proposal and application guidelines can be found here
Deadline: 5pm Tuesday 24th May 2016
CIT Wandesford Quay Gallery invites exhibition proposals from CIT Crawford College of Art & Design (CCAD) alumni of all faculties, who graduated from the year 2008 to 2013. Artists' projects will be selected through a call for proposals.

Catherine Fehily, Head of CCAD says "We know that Crawford artists who graduated between 2008 and 2013 are likely to be at the stage in their careers where they have an established art practice but may not yet have been able to stage a solo show. We're delighted to offer them this opportunity to bid for an exhibition slot in a really beautiful space – CIT Wandesford Quay Gallery."

CIT Wandesford Quay Gallery will provide an artist fee of €500 to help support the making of the exhibition.

Proposals will be accepted from individual artists, makers, curators or those wishing to organise a group exhibition. In the case of group or curated exhibitions, the curator and all proposed artists must have graduated from CCAD within the designated time frame.

Proposals can be made for exhibitions in any medium and for the presentation of recent works or production of new projects.