Event: 30th Annual Cork Mechanical, Manufacturing & Biomedical Engineering Exhibition Thursday 28th April 2016 > 2.00pm to 8.30pm
Thursday, 28 April 2016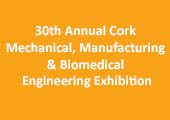 Venue: Nexus Hall, Student Centre, CIT Bishopstown Campus

2016 Exhibition Theme " 30Year A Growing"
Ireland and Europe's Largest Educational Engineering Event


Now entering its 30th year, the Cork Mechanical, Manufacturing and Biomedical Engineering Exhibition, organised by the CIT School of Mechanical and Process Engineering takes place on an annual basis in the magnificent setting of the Nexus Hall and surrounding environs on the CIT Bishopstown Campus.
This exhibition serves as the primary showcase for undergraduate and postgraduate engineering and multi-disciplinary student projects, industrial research projects and industrial training facilities within the School and Institute. Growing from a level of circa 11 stands in 1987 to over 200 stands in the 30th event, the annual Cork exhibition has achieved the status of the largest and most comprehensive educational engineering exhibition in Ireland and Europe.
At a glittering black tie event in the spectacular surroundings of the Intercontinental Hotel, Ballsbridge, Dublin, the Cork Mechanical, Manufacturing and Biomedical Engineering Exhibition was declared the Winner of the " Best in Class " Engineers Ireland "Best in Class" Education Excellence Award Winner 2015.
Interaction and cross-fertilisation of technologies and concepts between practising engineers and students/staff of the School is actively promoted and facilitated. Engineering representatives from over 300 indigenous and multinational organisations attended the 2015 exhibition. The fostering of industry/education cooperation has been greatly facilitated by the exhibition, giving rise over the years to a multitude of cooperative projects and promoting graduate placement.
The dovetailing of the exhibition with CIT developed core initiatives of multidisciplinary modules and projects, innovation start-up company internships, CIT Innovation Week and Student Prizes for Innovation, are ground-breaking not only in Ireland, but are also unique in a European academic context to create the academic and institute structures designed to engineer a highly effective college-wide student innovation eco-system.
The development of student communication skills and integrated multi-disciplinary structure of the exhibited CIT projects are a critical element, which has been central and crucial to an unprecedented flowering of Irish student international/national achievement. The exhibition is centrally and critically a student centric, owned and driven event and its longevity, continuity, development, expansion and success arises from this student ownership and stewardship.
The exhibition also serves as a major promotional tool to encourage second level students to consider careers in engineering and science with schools traveling to the event from all corners of Ireland. Over 1,500 secondary level students, large numbers of third level student and representatives from industry, business and academia annually attend the exhibition.
The success of the exhibition as a major driving force in creating a student innovation eco-system is underlined by the recent creation of the 136 Poster Page Pictorial Compendium of International and National Student and Innovation Engineering and Innovation Awards titled "First in Europe - First in Ireland - First in Innovation,Engineering an Undergraduate Innovation Eco-System" , which may be downloaded here.