Three in a Row! NMCI recognised for consistency in academic excellence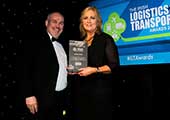 Published on: Monday, 09 May 2016


At the 2016 Irish Logistics and Transport Award ceremony, the NMCI was, for the third year in succession, recognised for its excellence in educational programmes, and was awarded the prestigious Education award for its Bachelor of Business in Supply Chain Management degree.
This annual gala event in Dublin, attended by over five hundred delegate representatives from the supply chain and logistics management sector, gathered to celebrate the best of what their industry has to offer. Jane O'Keeffe, course director of Supply Chain at NMCI, proudly collected the award on behalf of the college.

Image on left: Eugene Bortolozzo, Founder of the Irish Logistics and Transport Awards, presenting the Education Award to Jane.

NMCI is a constituent college of Cork Institute of Technology (CIT) and focuses on both maritime and non-maritime industry sectors, and offers customised education and training programmes to meet individual requirements. The Bachelor of Business in Supply Chain Management degree programme is designed to support industry requirements, and for those with experience in logistics and supply chain management, who wish to further their career prospects.

This unique programme, in its ninth year, builds upon the students' experiential knowledge and provides grounding in a wide and diverse range of disciplines. To date graduates have experienced excellent employment and career progression opportunities in both indigenous and multi-national organisations. The programme has been so successful within the logistics and supply chain industry nationally, the Supply Chain degree programme is being developed as a Level 8 offering through the CAO system.

The Government Future Skills Needs publication in 2015 highlighted Freight Transport, Distribution and Logistics (FTDL) sector in Ireland as a significant growth area for the period 2015-2020, and programmes such as those on offer at the NMCI are currently seen to address the opportunities highlighted at middle management level within the sector. A review of the skills gap in Ireland concurred with international best practice in identifying common skills development and talent attraction issues. The NMCI is appropriately positioned to support logistics and supply chain education and job creation, as in excess of 90% of global trade by volume is transported by sea. This is an indication of the importance of logistics to the maritime industry and of even greater importance to Ireland where 98% of trade by volume comes through its seaports. The NMCI facility, which embraces advanced technologies including simulation in its programmes, is ready to meet the growing demand in best in class logistics and supply chain education and training.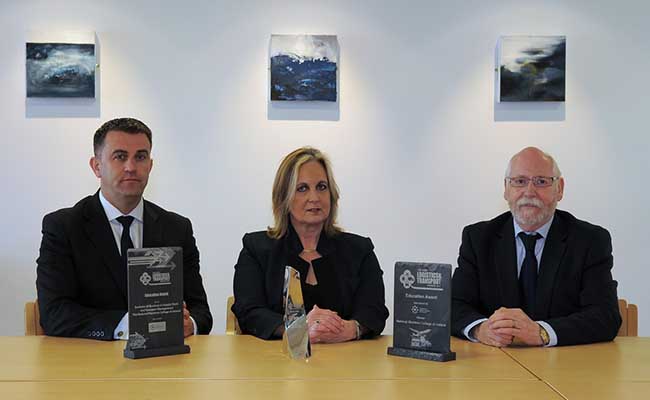 Jane O'Keeffe, course director, is being congratulated by Conor Mowlds, Head of NMCI and Vivion Gough (Capt.), Head of Department of Maritime Studies, NMCI, on NMCI's achievement in receiving the Education Award for the third successive year.