Irish Research Centre Supporting Economic Growth in Chicago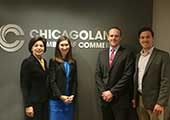 Published on: Tuesday, 03 May 2016
A Cork Institute of Technology Research Centre, V-LINC, has published a collaborative research report which outlines opportunities and policy recommendations aligned with strengthening and internationalising Chicago's information and communication technology (ICT) sector. The analysis investigated the linkages that Chicago SMEs, within the ICT sector, have with suppliers, customers, research institutes and public bodies to examine how collaborative relationships can be strengthened and new markets developed.
The V-LINC research group, established by Dr John Hobbs and Eoin Byrne in the Department of Management and Enterprise, CIT, have built expertise in regional development, competitiveness and innovation policy. The group developed a methodology V-LINC which records, visualises and analyses firm linkages to investigate and understand regional ecosystems.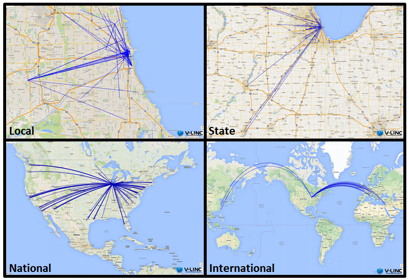 The V-LINC analysis supports regional development agencies and industry clusters to identify and map their network to strengthen key areas within global and national value chains and increase their economic impact. Arising from their research, international partnerships and connections to industry clusters across Europe have been developed by the group as part of the EC funded Be Wiser project and they are working with developing industry clusters engaged in agri-food, engineering, ICT, maritime, seafood and tourism across Cork and Limerick in collaboration with the respective City and County Councils.
A successful ERASMUS+ International Credit Mobility application combined with Be Wiser project support has developed both academic and industrial connections with the University of Illinois and Chicagoland Chamber of Commerce.
Katie Fitzpatrick, Executive Director, Programmes at the Chicagoland Chamber of Commerce said, "We are delighted to have had the opportunity to collaborate with the V-LINC research team. The information provided through this report has, for the first time, showcased and visualised the technology sector's network in Chicago. We look forward to further strengthening our European collaborations."
Eoin Byrne, Economic Researcher in CIT said, "When the Chicago V-LINC report was completed, an exciting opportunity presented itself to link members of Europe's top ICT clusters with the firms in the Chicago ecosystem through the Be Wiser Connect platform. Furthermore, this allowed us to extend an invitation to the Chicago based firms to join the EuroTech Connect trade mission to Cork from the 24th to 26th of May 2016. Allowing Chicago based firms and visitors from European clusters to be introduced to the Cork Ecosystem and build connections with Cork based SMEs and MNCs including EMC, Tyco, Janssen and DePuy."
Orla Flynn, Vice President for External Affairs at CIT said "I'm delighted to see the V-LINC team working closely with a range of Chicago institutions to extend their investigation into cluster growth and competitiveness. Part of our remit in CIT is to extend our teaching and learning – and research – into the enterprise community and this report on the Chicago's tech cluster by Dr John Hobbs and Eoin Byrne, ensures this brief is well met."
The link to the V-LINC analysis report for Chicago and information on the methodology designed by Dr John Hobbs and Eoin Byrne in CIT is available at vlinc/publications; Be Wiser Connect http://bewiserconnect.cit.ie/ and the EuroTech Connect Be Wiser Trade Mission to Cork http://be-wiser.eu/news