Head of Tourism & Hospitality Retires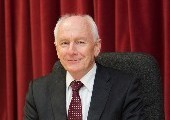 Published on: Thursday, 09 June 2016
Mr Adrian Gregan retires from the Department of Tourism & Hospitality at Cork Institute of Technology (CIT) this month. Following 10 years as Head of Department, Adrian leaves a department which has over 700 students in disciplines such as Hospitality Management, Bar Management, Tourism, and Culinary Arts. The Department has a reputation for producing quality graduates, many of whom hold managerial and senior positions in hotels, bars, tourism organisations, kitchens and contract caterers, both in Ireland, and across the world.
A graduate of DIT, Adrian holds a Degree in Hospitality Management, a Master's Degree in Travel and Tourism from UCD's Smurfit Graduate School of Business, a BA in Economics from University College Cork and a Postgraduate Diploma in Education Management from University College Maynooth. Throughout his time at CIT, Adrian actively participated in many local, national, and international organisations and bodies, including as Ireland's national representative at AEHT, THRIC, and PATA. He was conferred a Fellow of the Irish Hospitality Institute in 2006.
Following a career at senior management level in many of Ireland's fine hotels, he joined CERT, the National Training Agency for the hotel and tourism sector, where he held the role of Regional Adviser. His career has taken him around the world, working with Fáilte Ireland, and the International Labour Organisation (ILO) and European Union on development projects in tourism which took him from the Caribbean to South East Asia. Adrian worked with the National Tourism Authorities in Thailand, Singapore, and Malaysia, before joining CIT in 1994, initially as lecturer in hotel management tourism, economics, and enterprise, prior to being promoted to his position as Head of the Department.
During his period as Head of Department, he grew the Department to become one of the largest in CIT, oversaw the commissioning of a dedicated Tourism and Hospitality building of world standard, and guided the development of all programmes, including Master's and Doctoral studies in the tourism and culinary food areas.
To mark his retirement, the staff and students held a luncheon in his honour at CIT, and a presentation was made to mark his dedication to the students, his colleagues and the Hospitality Industry in general. Adrian remarked "I am leaving behind a first class Tourism and Hospitality department that is well placed to meet the transition to being a Technological University and to taking on the research focus and internationalisation that will be a feature in tertiary education into the future."