CIT scoops top prize at Enterprise Ireland Student Entrepreneur Awards 2016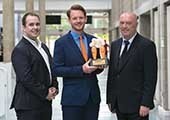 Published on: Thursday, 16 June 2016

9th June 2016
"Gasgon Medical" wins €10,000 prize and title 'College Entrepreneur of the Year 2016'
Three High Achieving Merit Award Winners all from CIT
| | |
| --- | --- |
| | Vincent Forde, a student from CIT, won the Enterprise Ireland Student Entrepreneur of the Year Award and been named 'College Entrepreneur of the Year 2016'. The winning entrant beat off stiff competition with his project 'Gasgon Medical', which aims to deliver unique and innovative medical devices to improve patient safety and support medical professionals during common procedures. The company was founded when doctors from Cork University Hospital highlighted the valuable staff time that was being wasted while setting up and monitoring IV procedures. |
Pictured above, Vincent and his sons Sacha, Blaise and Jude.

This year celebrates the 35th year of these prestigious awards which are co-sponsored by Cruickshank Intellectual Property Attorneys, Intel and Grant Thornton and are open to all third level colleges across Ireland.
The Student Entrepreneur Awards are part of a major drive aimed at encouraging students to start their own business as a career option. The substantial prize fund includes €35,000 in cash prizes and €30,000 in consultancy fees which are available for winners to help them turn their idea into a commercial reality. In addition to winning the top prize, the winning team will also receive mentoring from Enterprise Ireland to develop the commercial viability of their overall concept.

Niall O'Donnellan, Head of Micro Enterprises and Small Business at Enterprise Ireland said "Now in its 35th year, the Student Entrepreneur Awards attracted submissions from over 500 third level students from colleges across Ireland. This competition gives students valuable hands-on experience in entrepreneurship and establishing a business. The calibre of applications clearly demonstrates that the entrepreneurial spirit is very much alive across Ireland's universities and colleges. Congratulations to all involved."

The awards were presented by Myles Murray, CEO, PMD Solutions, a previous finalist for the Student Entrepreneur Awards and Enterprise Ireland High Potential Start Up company. Since Myles graduated 4 years ago, his company has gone from strength to strength employing 22 staff and he recently received Horizon 2020 funding worth €4.2 million. He is currently collaborating with some of the largest research hospitals across Europe, the U.S and Asia, and his RespiraSense product has also just launched in Australia.

Congratulating the award winners Myles commented "Events such as the Student Entrepreneur Awards gives young entrepreneurs a viable pathway for realising their world changing ideas and visions. For myself and many more like me, this vehicle has enabled the nurturing of over 22 start-ups, 4 of which have attained the title of a High Potential Start-up (10 new employees and €1,000,000 in export revenue within 3 years). That is the real potential of young entrepreneurs and the power of the Student Entrepreneur Awards."

College Entrepreneur of the Year Award 2016 winner:
GASGON MEDICAL, CIT – Vincent Forde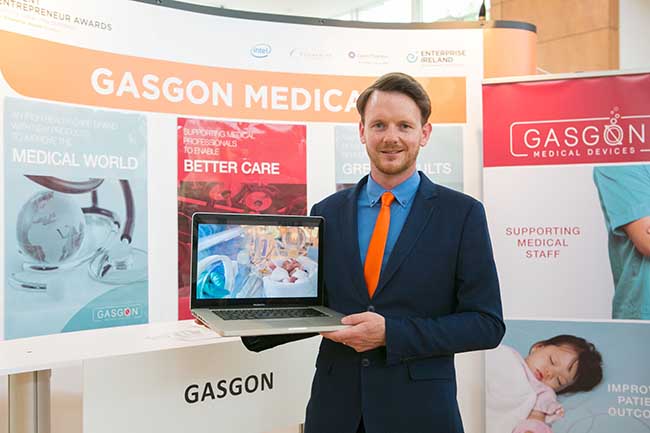 GASGON MEDICAL aims to deliver unique and innovative medical devices to improve patient safety and support medical professionals during common procedures. The company was founded when doctors from Cork University Hospital highlighted the valuable staff time that was being wasted while setting up and monitoring IV procedures. Medical staff have reacted positively to the proposed solution, with initial investigations into the business potential uncovering a wider global opportunity. The project has already seen significant success having won both Accenture's 'Leaders of Tomorrow' and CIT's 'Prize for Innovation' this year.

Cruickshank Intellectual Property Attorneys' High Achieving Merit Award winner:
HydroFLOcean, CIT – Arran Coughlan, Kelly Lane, George O'Rourke, Shane O'Driscoll, Jason Shorten, John Harrington, Gerard O'Connell & Kacey Mealy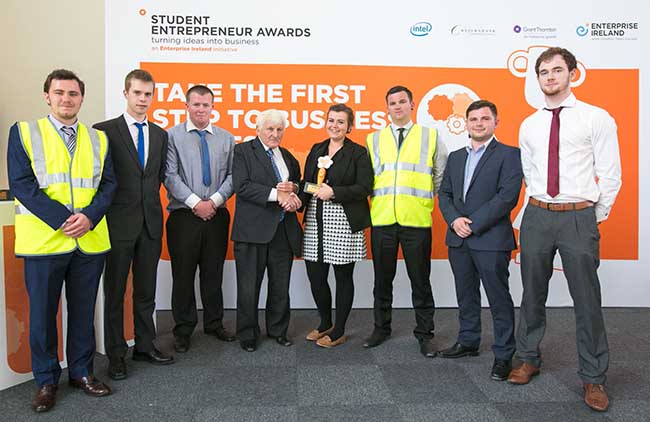 The H-Flo is a new innovative water safety device that disengages a lanyard from a harness when submerged in water. The functional prototype was designed in response to the tragic death of two men on Thomond Bridge, Limerick last year when they were harnessed onto a platform that fell into the River Shannon. The H-Flo aims to prevent future tragedies like this one occurring.

Cruickshank Intellectual Property Attorneys are also providing intellectual property consultancy and protection for all the finalists.

Grant Thornton Emerging Business Award winner:
'Recovery Solutions Leader' (RSL), CIT – Tim Walley, Conor O'Brien, Jerry Crowley, Daniella Barrett, Aidan Lawless, David Cullinane, Tahamina Akter & Vincent Lotti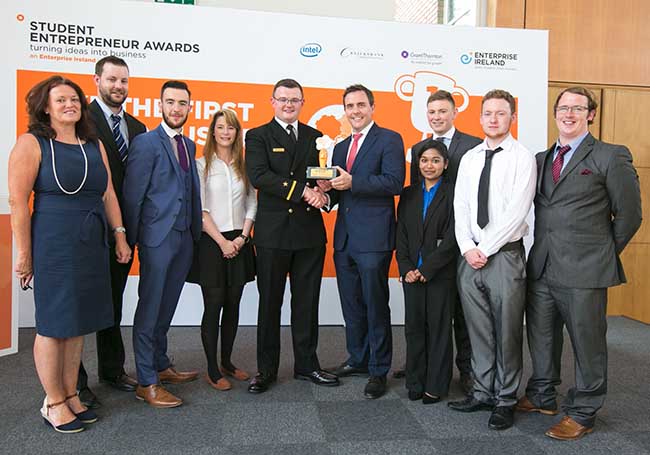 The Grant Thornton Emerging Business Award of €5,000 went to 'Recovery Solutions Leader' (RSL) from CIT. RSL's innovative Cooling Compression Recovery Aid (CCRA) product treats sports injuries. It utilises existing recovery methods but in an easy-to-use, ergonomic and user friendly pack. Encompassing cooling and compression, the CCRA provides the user with an efficient recovery period with reduced time in pain and discomfort.

Grant Thornton will also provide business plan development advice to the finalists.

Intel ICT award winner:
Steady Life', CIT – John Morrissey, Eoin Kelly, Katie Galvin, Neil Walsh, Piotr Kasztelan, Ryan Sebastian & Michelle Kehoe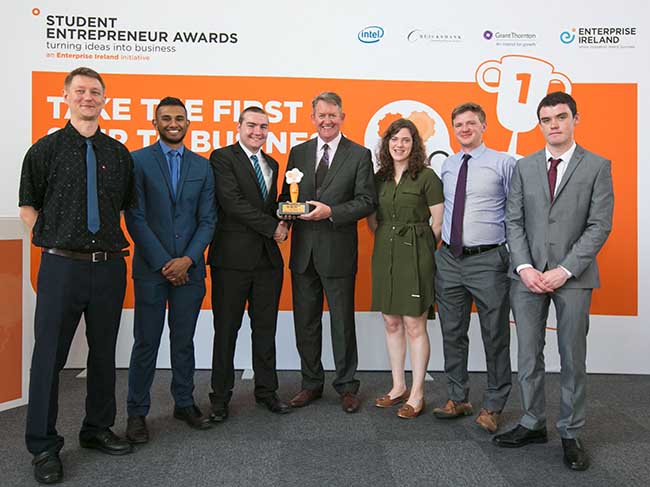 Intel awarded their ICT award of €5,000 to 'Steady Life' from CIT. Steady Life is a comfortably fitted sleeve that is worn around the forearm. The sleeve incorporates sensor systems and electrotherapy to help a patient dampen and reduce the frequency and relieve the pain of tremors.

Merit Awards were also given to the remaining six finalists, and an Enterprise Ireland Academic Award was presented to Sean F O'Leary from CIT in recognition of his 30 year involvement with the Student Entrepreneur Awards.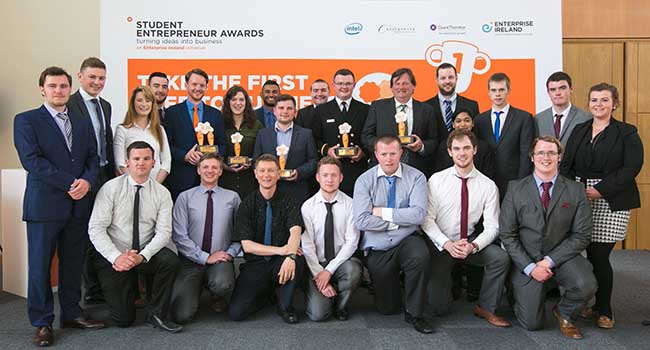 Image Credit: Brian Gavin Press 22