Event: Irish Youth Guitar Orchestra with the Los Angeles Guitar Quartet
Saturday, 30 July 2016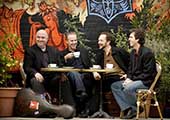 Saturday, 30 July @ 8 pm
Curtis Auditorium, CIT Cork School of Music, Union Quay, Cork. Please click here for directions to the CIT CSM.
The concert is presented in association with the CIT Cork School of Music.
The inaugural tour of the Irish Youth Guitar Orchestra brings them to Cork this coming Saturday for a very special concert with the Grammy-Award winning Los Angeles Guitar Quartet and the Dublin Guitar Quartet with conductor David Brophy.
The programme will feature music by Holst and Warlock as well as Irish premieres of works by Brian Bolger and Shingo Fuji.
Guitar Plus guitar orchestra conducted by Jerry Creedon with soloists Conor Nash and Murrough Connolly will also be performing Handel's Concerto Grosso Op. 4, No. 6.
This Concert is dedicated to the memory of James Stevens (1995-2015) whose first anniversary occurs on 30th July. James was a BMus Degree student in the CIT CSM during the academic year 2014-2015. He was a talented and dedicated guitarist with the potential to be an unique creative musician. His memory lives on.
Tickets €15 / €10
Tickets available at CIT CSM or at Pro Musica, Oliver Plunkett Street 021 427 1659