Unique Entrepreneurial Summer Camp in CIT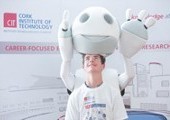 Published on: Friday, 26 August 2016
An intensive summer camp was held in Cork Institute of Technology which immersed a group of teenagers in the world of entrepreneurship. The camp, now in its fifth year, is aimed at 14 to 16 year olds from schools across Cork City and County. This year's camp also attracted participants from as far away as Canada.
The week long enterprise camp, hosted by the Hincks Centre for Entrepreneurship Excellence in CIT, took place in the Rubicon Centre, the on campus innovation centre, providing the teens with an insight in to the life of an entrepreneur in a busy and inspiring entrepreneurial environment.
It serves as an exciting place to meet entrepreneurs, both at very early stages and more experienced. The groups are given the opportunity to be creative, explore opportunities, share ideas, and build connections within CIT and with each other. A series of guest speakers, along with frequent visits from the on-site start-ups, offered inspiration and motivation. Young entrepreneur, Alex Musgrave from Dog Day Media who started his successful business when also a full-time student, impressed the teens with his modern and fun animations and video.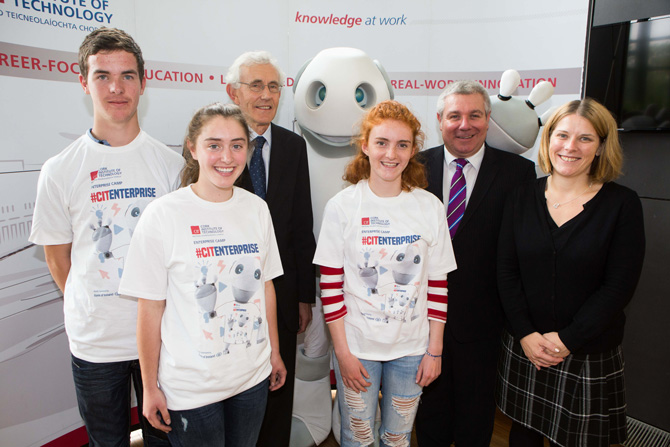 Camp participants learned the value of leadership and teamwork skills from business leader Jim Barry, of the Barry Group, and completed practical work on generating business ideas, researching, and understanding the market, from experienced CIT lecturers. A visit to a local innovative company allowed the group to see real innovation and creativity in action in a bustling business environment. The students worked together learning how to think, plan, and act, like entrepreneurs to develop their business ideas throughout the week. An advisory session for funding start up business ideas was provided by the camp sponsor, Bank of Ireland. Business ideas included: robotic pets, an explainer App for sick kids, a biscuit dunking filter, smart responsive sportswear and storage solutions for busy shoppers.
The high energy week culminated with groups putting their business ideas to the test by pitching their idea to a panel of judges on the final day. Certificates were awarded to all of the participants by Dr Brendan Murphy, President of CIT.
CIT is at the forefront of entrepreneurship education and training and is ideally placed to host this unique Enterprise Camp. Dr Breda Kenny, Head of Hincks Centre for Entrepreneurship Excellence, said "entrepreneurship education empowers students and young people to make well-informed decisions about their future, whether they choose to become entrepreneurs or not. Our camp participants are encouraged to discover and value their own assets and skills, such as: time, talent, attitude, energy and unique knowledge of their local market. They are encouraged to use these assets and skills to be entrepreneurial, an entrepreneur to make money or to make a difference in their communities".
Numerous participants will continue to engage with the entrepreneurial network in CIT as they progress through their school years, whether it is for work experience opportunities or advice on their transition year companies.