National Awards for CIT Civil Engineering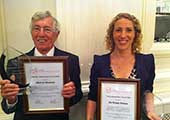 Published on: Monday, 29 August 2016
The Civil Engineering Research in Ireland 2016 conference was hosted in NUIGalway on the 29th - 30th August 2016. The conference, which is held on a two year cycle basis, encompasses the work of delegates from the civil engineering departments of the third level colleges of Ireland with significant contributions from TCD, UCD, QUB, NUIG, CIT, UCC and DIT.
At the conference dinner there were very noteworthy achievements for colleagues in the CIT Department of Civil, Structural and Environmental Engineering. At each conference The Civil Engineering Research Association of Ireland (CERAI) acknowledges the outstanding contribution of two individuals and, on this occasion, both accolades were to outstanding contributors from CIT.
The Young Researcher Award of 2016 - 'made to individuals who have made an outstanding contribution to research and practice at an early stage in their careers' - was awarded to Dr Niamh Power. The award is a fantastic accolade for Niamh and her work and particularly so in the context of the strong field of excellent young researchers in the sector. Congratulations to Niamh.
The other award of the evening, the Life time achievement Award, - 'honouring an individual for outstanding achievements made over a sustained period in the disciplines of engineering' - was presented to Fellow Emeritus Martin Mannion (Head of Department, retired). Among many other achievements Martin's contribution to the engagement of higher education with the professional bodies and with industry was highlighted.
Most importantly of course, the graduates of the Department who presented at the conference were a credit to the Department, to the Building and Civil Engineering Sustainable Infrastructure Research Group, and to the lecturing staff who guided their postgraduate work.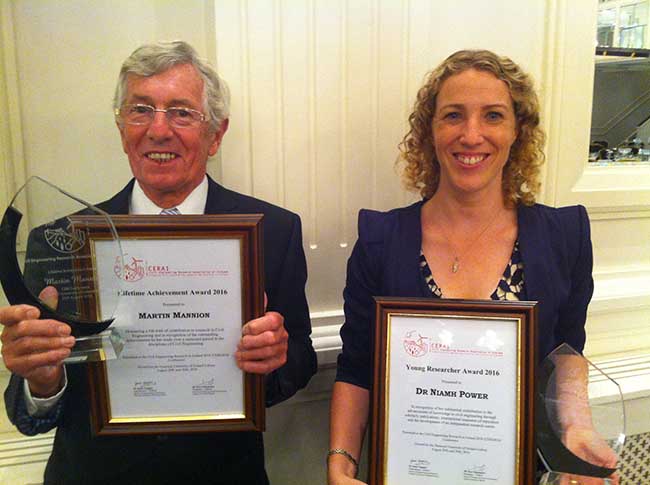 Martin Mannion with Dr Niamh Power at the Civil Engineering Research in Ireland 2016 conference.