Congratulations to the students/graduates > Institute of Designers of Ireland Awards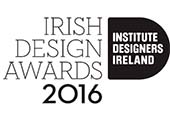 Published on: Saturday, 12 November 2016
The IDI Graduate Design Award winners were announced at a ceremony on Thursday 10th November at NCAD Gallery, Dublin.
Sam Russell of NCAD presided over the event and George Boyle President of IDI made the presentations. Awards were made in a wide range of categories from Animation and Architecture to Viz Comm and Product, and Fashion and Textiles to Universal Design and UX.
The exhibition of all the Shortlisted Finalists will run at the NCAD Gallery from 11th November every day for one week
Hearty congratulations to the students/graduates and their Lecturers for the diverse sucesses listed below across a range of disciplines. 14 CIT students came away with design awards from the Institute of Designers in Ireland. Topping off the 10 commendations, and 2 high commendations, Grace Murray (Visual Communications Graduate) and Kristina Malantsuk (Interior Architecture Graduate) came away with category wins in Illustration and the prestigious Ove Arup Award (a total architecture award).
14 graduates from the Department of Architecture and the Department of Media Communications made 2016 CIT's largest ever haul from the awards and ranks CIT second only to the NCAD in success.
Winner
Stephen Burke (Architecture) Sustainable Design
Kristina Malantsuk (Interior Architecture) Ove Arup Award
Grace Murray (Viz Comm - Illustration)
Highly Commended
Emma O'Neill (Architecture)
Mark O'Sullivan (Viz Comm – Illustration)
Deirdre Power (Architecture)
Commended
Habban Ali (Digital Design, UX Design)
Stephen Burke, Jack Flannery, Richard Stokes (Architecture) Ove Arup Award
Stephen Burke, Jack Flannery, Richard Stokes (Architecture)
Victor Gekker (Architecture)
Rachel Griffith (Viz Com Illustration)
Yosta Kerssens (Interior Architecture)
Kristina Malantsuk (Interior Architecture)