Event: CIT to run Entrepreneurship Seminar
Friday, 18 November 2016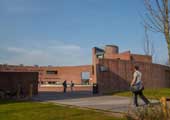 The Power of Innovation in an Organisation
CIT will run an Entrepreneurship seminar on Friday 18th November titled "The value and impact of the entrepreneurial organisation" as part of Global Entrepreneurship Week. Global entrepreneurship and the benefits of attracting and encouraging employees with a more entrepreneurial mind-set will be a hot topic at this breakfast event.

CIT will welcome Tom Lersten, Director of the Global Entrepreneurship Program, US Department of State and Peter Coppinger, the co-founder, CEO and lead developer of Teamwork.com to speak at the business breakfast to explore the issue of entrepreneurship and engage in discussion with invited guests, utilising personal experiences and interesting case studies.

Having entrepreneurial staff helps organisations to generate new business, to build an environment of sustained innovation, to improve productivity and to increase financial returns. It also helps to attract and retain the best and brightest talent, to constantly develop employees while keeping them engaged, and to facilitate and accelerate culture change.

CIT is a thought leader on entrepreneurship in the Higher Education Sector with many novel initiatives on campus to educate entrepreneurial graduates and to support entrepreneurship and innovation in companies in the region i.e. a purpose built Business Incubator, the Rubicon Centre, the first female entrepreneurship programme (PINC) and first female STEM entrepreneurship programme (Exxcel) in the country, appointing an Entrepreneur in Residence, first accredited programme (Student Inc.) for students starting a business, CIT Innovation Week, an annual event with numerous competitions and inventive ideas showcased, supported by Enterprise Ireland and the Local Enterprise Offices. CIT established the Hincks Centre for Entrepreneurship Excellence in 2013, its aim is to promote and provide entrepreneurship training, research and education and to foster the entrepreneurial mind-set among CIT's partners and stakeholders.

Speaking about the event, Gerard O'Donovan, Head of Faculty of Business and Humanities said," we are delighted to be hosting this event in CIT and to have two great speakers to give their insights into the value of having an entrepreneurial organisation which is essential now for business success and growth."

The city of Cork will be the first location in Europe to host the international Startup Nations Summit, which will take place during the 2016 Global Start-up Gathering in November.
The 2016 Global Start-up Gathering (GSG2016) will take place between 18 and 20 November. It aims to attract hundreds of international and national business people and would-be entrepreneurs in areas stretching from biotech to food, manufacturing, e-health, nutrition and technology.
Hosting the Global Entrepreneurship Network (GEN) Startup Nations Summit on November 19th ensures that the eyes of the entrepreneurial world will be on Cork as the Summit will bring together the leaders of national entrepreneurship initiatives from over 80 countries. The event will be the cornerstone of Global Entrepreneurship Week which is taking place in 180 countries across the globe.
For further enquiries about the CIT event please contact ilo@cit.ie