Work-Placement in Third-Level Programmes Report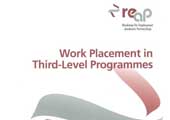 Published on: Thursday, 10 March 2011
The latest work of the REAP project team, a report on 'Work Placement in Third Level Programmes' was officially launched in Dublin on 9th March. The launch was hosted by the HEA and was addressed by John Hennessey Chair of the HEA. The report was jointly launched by the HEA, IBEC and USI. Irene Sheridan provided a brief overview of the report on behalf of the REAP project team summarising the research perspectives and the distillation of the research findings into a practical framework to support placement learning. In response Brendan Butler, Policy Director, IBEC, warmly welcomed the report and stressed the role that Higher Education will play in Ireland's economic recovery. Gary Redmond, President, USI, welcomed the report and commented on its timeliness in relation to the Higher Education Strategy document. Dr Brendan Murphy closed the proceedings thanking all of the REAP project partners for their contributions to the work and making particular reference to the on-going support of the HEA for the REAP project.
| | |
| --- | --- |
| | The report on work placements in undergraduate programmes brings together research into the Higher Education role, the Employer role and the Learner role in this important learning opportunity. The research is developed into good practice guides and suggested placement packs for learners and employers. |

The work, which explores issues of programme design and placement planning, aims to deepen engagement between higher education institutions and employers in order to enhance the overall placement experience for students of Irish higher education.

Copies of the report are available from the Strategic Innovation Projects office or through the REAP project website www.reap.ie
The REAP project team would like to thank all of the staff and students of CIT who made a valuable contribution to this work and to the REAP project efforts generally.