CIT hosts National Skills Competition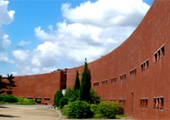 Published on: Monday, 04 April 2011
Newsflash > Free Courses on Offer
CIT Offers a Way Forward for Unemployed Apprentices,
Please click here for details

Check out our Facebook page for information and photos about the National Skills Competition.
CIT once more plays host to the National Skills Competition and will run contests in eleven skills from the 4th - 8th April. This competition is run on a annual basis and is one of the most prestigious events in the crafts' calendar. It attracts the best trainee crafts persons from around the country to compete for first place in Ireland and win the coveted Department of Education and Skills, Silver Medal in their respective skill areas.

From the skills training perspective it provides a magnificent opportunity to showcase the relentless commitment to the training and development of highly skilled crafts persons within the Irish education system. National winners may be chosen to represent Ireland in the WorldSkills competition which is a biennial event. The next WorldSkills competition will be held in the UK later this year.

The National Skills Competition is open to the public and visitors are always welcome to view and savour the high levels of craftsmanship on display along with the tense competitive atmosphere. This year's event will take place at CIT's Bishopstown and North Point Campuses from Monday 4th April 2011 to Friday 8th April. Wednesday 6th, April is possibly the best day to visit, as the projects will be at an advanced stage.

The winners in the various skills will be presented with trophies at an awards ceremony on Friday 8th April.

The Skills being showcased at CIT are Automobile Technology, Carpentry, Construction Plant Fitting, Electrical Installations, Industrial Control, Joinery, Mechatronics, Metal Fabrication, Plastering Refrigeration and Welding.
SKILL LOCATION
Automobile Technology
Bishopstown Campus
B148 & B154
Carpentry
Bishopstown Campus
A149
Construction Plant Fitting
North Point Campus
Electrical Installations
Bishopstown Campus
Electrical Annex 1.2 SNR
Industrial Control
Bishopstown Campus
Electrical Annex 1.2 SNR
Joinery
Bishopstown Campus
A117 & A121
Mechatronics
Bishopstown Campus
Nexus Centre
Metal Fabrication
Bishopstown Campus
A146
Plastering
North Point Campus
Refrigeration
North Point Campus
Welding
Bishopstown Campus
A144
Enquiries:
Ray Looney
Chairman – CIT NSC Organising Committee
Cork Institute of Technology
T: +353 21 4326181
E: ray.looney@cit.ie