Building Ireland's Future - 18 New Irish Companies Launch at 2011 Genesis Showcase & Awards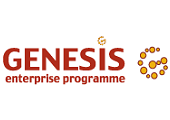 Published on: Saturday, 16 April 2011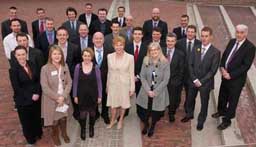 On Monday, 28th March in CIT, Mr Simon Coveney, T.D., Minister for Agriculture, Marine and Food launched 18 new Irish Companies at the 14th Annual Genesis Enterprise Programme (GEP) 2011 Awards & Showcase.

Congratulating the new companies on achieving their first year in business, Minister Coveney said "in challenging economic times it is refreshing to find new opportunities and fresh entrepreneurial thinking which will help lead Ireland to growth and prosperity once more. What I have seen here this evening is Ireland's entrepreneurs demonstrating the Smart Economy in action. These are the businesses that will shape our future with the creation of high value enterprises and employment opportunities. Initiative programmes such as Genesis Enterprise are key to supporting emerging businesses turn their initial idea into a viable reality with export potential".

The Genesis Enterprise Programme is a 12 month rapid incubation programme designed to nurture, support and develop entrepreneurs starting innovative knowledge based businesses in the South West Region. The programme has a proven track record of success with start-ups across a number of sectors, including medical devices, food, photonics, mechanical engineering, biotech and machine vision. During the last twelve years, Genesis has supported almost 200 people and teams in starting their businesses. More that 70% of the start-up businesses are in operation to-day employing more that fourteen hundred people. Over 50% of the businesses are trading internationally. 40 businesses have gone on to be designated "High Potential Start Ups" by Enterprise Ireland. Genesis's success was recently recognised when it received an award for "Promoting the Entrepreneurial Spirit" at the 2010 European Enterprise Awards, held in Madrid last May.

This year, 18 new companies completed the Genesis Enterprise programme and the industries that they are pursuing are varied – electronics, energy conservation, e-commerce, healthcare, software development, telecommunications and water monitoring. At the end of each year's programme, the participating businesses are presented to the public in a showcase exhibition with the achievements of particular businesses in reaching commercial milestones being recognised in an Awards ceremony.
The winner of the AIB Genesis Emerging Business of the Year and a cheque for €2,500 was Gareth Cuddy, DirecteBooks Ltd. Established in 2009, DirecteBooks.com, is Ireland's only dedicated eBook retailer offering over 200,000 eBooks for sale worldwide.

Business Plan of the Year Award and €1,250 was awarded to Seamus Kerrigan, SmartComm. SmartComm provides a mobile payment solution which allows consumers to find and purchase local services via a personalised experience on their smartphone.
The Sales Strategy and Achievement Award was presented to Barry Walsh, Green Your Goods.ie. GreenYourGoods.ie allows individuals, fundraisers and businesses to earn the most money possible from used electronic gadgets. Barry received €200 along with a four month sales mentoring package from Sales Solution.

The Business Development Achievement Award and €1,250 went to James Kennedy of Unified Computing which simplifies the content creation process in the 3D animation industry by making many forms of rendering resources seamlessly accessible to studio artists.
The Market Entry Success Award and a prize of €1,250 went to Daniel Bradfield of AirDryer Systems Ltd. was set-up to manufacture market and distribute a new product based around an innovative new method of drying the laundry "The Marilyn".
The Award for Opportunity Investigation and €1,250 went to Pat O'Leary, Faaltech Ltd., a real time water monitoring company developing affordable sensors and communication platforms to rapidly detect changes in water quality 24/7.
The participants on the Genesis Programme themselves voted Kieran Logan of Role Connect for a special "Entrepreneurial Leadership" Award. This Award is judged by the Genesis participants themselves for the person/team whom they felt had most demonstrated entrepreneurial ability, leadership and co-operative learning spirit espoused by the Genesis Programme. Kieran will receive a trip to Dublin for the Ernst & Young Entrepreneur of the Year Awards ceremony in September 2011.
Kieran is pictured on the left receiving his award from Minister Coveney.
The adjudication Panel for the 2011 Award combined the experience of established entrepreneurs with seasoned professionals and was composed of Kieran Moynihan, CIT Entrepreneur in Residence, Ian Venner, Director, Ernst & Young; John O'Doherty, Regional Director, AIB; Conor Keane, Business Editor, Irish Examiner and Chairperson, Pat Ryan, Director, Abtran.
Over 200 people attended the 2011 Genesis Showcase & Awards drawn from the regional development bodies, current and past Genesis participants, venture capitalists, private investors, the higher education community and the wider business community in the South West region, as well as local and national press.
| | |
| --- | --- |
| | Michael Delaney, VP for Development, CIT; Pat Ryan, Abtran, 2010 Alumni award winner presenting the 2011 Alumni award to Colum O'Sullivan and Cullen Allen, Cully & Sully (Genesis 2004); with Denise Kennedy, Genesis Programme manager. |
The 2011 Genesis Alumni Award is presented annually to an alumnus of the Genesis programme who has made substantial achievements in their commercial field or has contributed in a significant way to the economic development of knowledge based businesses in the region. Cully & Sully started their business while participating on the 2004 Genesis Enterprise Programme. The company, named after the nicknames of the two founders, was established with the aim of supplying a range of high quality prepared meals to retail outlets throughout Ireland. Both Cully & Sully have a long tradition in the food industry. Cullen Allen (Cully) is a grandson of Myrtle Allen, founder of the famous cookery school and Ballymaloe House, where he trained. Colum O' Sullivan (Sully) graduated with a BSC in food business from UCC in 1999 and grew up in Midleton, where his mother owns the Granary food store. Cully & Sully supply over 1,000 shops nationwide, with a range of restaurant quality soups and pies, including SuperValu, Dunne's Stores, Tesco and Spar. All of their recipes originate from Ballymaloe House and and are produced in Ireland using all Irish beef, lamb & chicken. According to Denise Kennedy, Genesis Programme Manager, "Cully and Sully's generosity in aiding other aspiring entrepreneurs, significant business achievements and entrepreneurial spirit are recognised in this year's Genesis Alumni Award. Cully & Sully is the "Smart Economy" in action, a model for food businesses of what an Irish company can achieve in developing a market leading brand."

| | |
| --- | --- |
| | Kieran Moynihan, Entrepreneur in Residence, CIT; Ian Venner, Ernst & Young, adjudication panel; Colum O'Sullivan and Cullen Allen, Cully & Sully (Genesis 2004), 2011 Alumni award recipients; John O'Doherty, Regional Director - Cork Central, AIB, adjudication panel; and Pat Ryan, Abtran, 2010 Alumni award winner. |
The 2011 Genesis Showcase and Awards are supported by the sponsorship of Cork Institute of Technology, Enterprise Ireland, Cork County & City Enterprise Boards, AIB, Ernst & Young and Ronan Daly Jermyn. Media partner for the Event was Thomas Crosbie Holdings.