Event: GLIMPSE Exhibition @ CIT Wandesford Gallery
Wednesday, 06 April 2011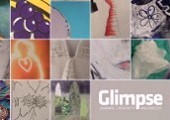 The exhibition at the CIT Wandesford Quay Gallery, entitled "GLIMPSE", opens on Wednesday April 6th at 6:30 PM and features the work of students on our HDip in Arts for Art & Design Teachers, alongside the work of their pupils. The exhibition will be opened by Chris Clarke, Curator at the Glucksman Gallery.
The Higher Diploma in Arts for Arts and Design Teachers is a one-year post-graduate course, where student teachers experience the rewards and challenges of a profession whose fundamental aim is to nurture creativity in the hearts and minds of our young. The experience is rewarding because it is a pleasure to see school goers find a creative voice that expresses ideas, opinions and feelings through the artistic elements. Challenging, because the student teacher must find new and exciting ways of making all the above happen when there is so much competition in our modern-day society that demands and distracts the attention of our teenagers.
The work in this exhibition is but a snapshot, a glimpse into this journey of discovery and learning. Each student teacher has given us an insight into the hopes and aspirations they had when sitting in their studio spaces working on the planning and preparation for their teaching. Their minds preoccupied with making the right decision, searching for that crux on which a successful lesson might hinge.
This is reached through a process of documenting ideas and proposals for teaching, using reflective sketchbooks that chart the evolution of ideas, and the strategies that are utilised to make them a reality. Practical and theoretical workshops have an important role to play also as they support the student teacher in finding confidence to communicate techniques and processes, and to inspire pupils to make their own artistic statements. Lesson planning and evaluation also form a big part in this preparation and it is no small feat to be able to juggle all of these constituent parts together. With the preparation done, the student teacher is ready to stand at the front of the class facing the rows of expectant faces, ready to bridge the span between anticipation and reality, theory and practice.
The works of the student teacher and the pupils in their placement school are linked in many intricate and compelling ways. There is on one level a close similarity, as both strive for creativity and self-expression. But there must be, and are, differences, as each should be an entity unto itself, with the freedom to be whatever they wish.
Naturally, it is not possible due to space restrictions to show all of the work belonging to the student teachers and their pupils within the Wandesford Quay Gallery space. But yet, it is somehow comforting to know that those personalities 'marked absent', are still acknowledged within glimpse, on the walls, shelves and folders of many art rooms across the city and county.