CIT's Sports Stars celebrated at Award Ceremony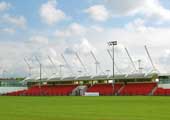 Published on: Wednesday, 04 May 2011
Guest speaker Juliet Murphy presenting the 'Graduate Achievement' award to Graham Canty for Gaelic Football; with Dr Barry O'Connor, Registrar and Vice President for Academic Affairs at the CIT Sports Awards 2011 ceremony.
On the 4th May, CIT's sport star students whose areas of excellence range from Badminton to Sailing were honoured at the Annual Cork Institute of Technology Sports Awards Ceremony. Guest Speaker was CIT graduate Juliet Murphy, Holder of 5 All-Ireland titles with Cork ladies footballers, former Irish Basketball International and holder of County, Interprovincial and National titles in road bowling. CIT's awards have been running since 1993 and are based on outstanding achievements in their sport and/or the administration of clubs, within the Institute.
The individual awards winners for 2011 are Jonathan O'Keeney - Racquetball; Caitriona Kelleher - Soccer; Sean O'Gorman – Badminton; John O'Hea – Canoe; George Kenefick – Sailing; Charles Foley – Soccer; Stephen McDonnell – Hurling; Eoin Murphy – Boxing; Shona Cunningham – Camogie.
Dr Barry O'Connor, CIT Registrar and Vice President for Academic Affairs congratulated all the recipients: "I want to offer my special congratulations to the Hockey Team on their fantastic achievement on behalf of CIT and, of course, our four current CIT students who won the All Ireland football final for Cork."
As well as recognising CIT's current sporting heroes, the CIT Sports Awards afford the opportunity for CIT to also recognise graduates. This year the Institute has chosen to award All-Ireland winning Cork Football captain Graham Canty as the "Graduate Award" recipient. Graham joins the prestigious list of Graduate Achievement Award Winners such as Juliet Murphy, David Wallace, Eoin Liston, Conor Counihan, Dave Barry, and Brian Corcoran.
| | |
| --- | --- |
| | The Men's Hockey team were designated "Team of the Year" after an historic year when they won the Men's Senior Intervarsities for the first time in the history of the Institute. The Club also won the mixed Intervarsities. "Club of the Year" went to Badminton Club who underwent a serious transformation this year and reached a remarkable five Finals, winning two. |
| | "Fresher of the Year" Award went to Georgina McKeon – Soccer. A first year Horticulture student from Ovens, Georgina has been a huge addition to the CIT team, nailing down the position of goalkeeper. She represented Munster colleges and won the interprovincial competition. She is currently on trial with the Irish Colleges team was also selected for an All Star this year. She never missed matches or training despite the fact that most of her lectures are in the Agricultural College in Clonakilty. |
| | The final awards were "Achievement Awards" presented to students in recognition of the four current CIT students who were members of the All-Ireland winning Cork Senior football team in 2010: Ciaran Sheehan, Brian O'Regan, Aidan Walsh and Conor O'Driscoll. |
The 2010/2011 academic season has been a very successful one for CIT. The Institute featured prominently in events such as Boxing, Hockey, Soccer, Athletics, Racquetball, Hurling, Kickboxing, Camogie, Karting, Canoeing, Mountain biking, Badminton, Rugby and Golf. CIT prides itself on being involved and competitive in so many sports at such a high level. This year CIT had the honour of hosting the Novice Boxing championships, the ladies soccer Intervarsities, co-hosting the canoeing intervarsities, the prestigious Evening Echo Senior A Camogie Championship Final and replay, the Munster Schools & Universities Cross Country Championship, the 2nd Round of the Karting championships, and the Southerns Sailing competition.
Please click here to download the Sporting Highlights for 2010/2011.
As well as catering for the competitive athlete, CIT also place a big emphasis on participation and fun and this is reflected in the growing numbers who take part. The Sports Office run a number of activities such as aerobics, circuit training, abs classes, yoga, "pedometer challenge", "boot camps" and 'fit for life' programs.
The staff of the Sports Office this year consisted of Miriam Deasy, Sports Officer; Mai O'Leary, Acting Sports Officer; Norma Buckley, Sports and Societies Administrator; Cara O'Neill, Sports Administrator; Keith Ricken, GAA Officer; Eric Marah, Soccer Facilitator; Brendan O'Connor, Rugby Officer; Irene Hogan, Sportshall Administrator, and Grounds/Pitch staff - Ger Neff, Colm Craig, Clive Thompson, and Dave Kingston.

Guest speaker Juliet Murphy presented the awards with Dr Barry O'Connor, Registrar and Vice President for Academic Affairs.