NMCI Commemoration for Inventor of Submarine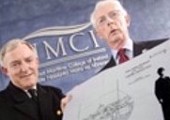 Published on: Friday, 06 May 2011
A commemoration event will take place for John Philip Holland at the National Maritime College of Ireland on Saturday 7th May 2011. John Philip Holland was the inventor and designer of the first submarines in the American, British, Japanese and Dutch navies. A live video stream of the event will be available from www.nmci.ie/live
John Philip Holland was born in Liscannor, Co. Clare and was a Christian Brother between 1858 and 1873. Br John Philip taught at the North Monastery School between 1858 and 1861. While at the North Monastery, Holland designed, prepared the drawings and specifications for the first submarine. Br James Dominic Burke made a model in wood for him. The first tests were carried out with models and explosives in the Monastery's ornamental pond.
The inventor's father, Mr John Holland Senior, was born in Bantry, Co. Cork circa 1800 and lived in Ballymartle, Co. Cork. John Holland Snr. joined the British Coastguard on 25th March 1822 and his first posting was the Coastguard Station at Ringabella, Co. Cork.
Live Events:
Guest Speaker: Dr Donal S. Blake - John Philip Holland, his connection with the Christian Brothers - 2.30 p.m.
Musical Tribute to John Philip Holland by Mr Eoghan Hill - 2.45 p.m.
Keynote Address: Mr Bruce Balistrieri - John Philip Holland: The Inventor of the Modern Submarine - 3:30 p.m.