First Fridays at the Castle: Celebrating the Space Shuttle > 1st July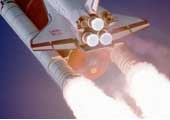 Published on: Monday, 20 June 2011
CIT Blackrock Castle Observatory celebrates NASA's last ever space shuttle flight!
Watch this space as CIT Blackrock Castle Observatory marks NASA's final shuttle flight when Atlantis launches from the Kennedy Space Centre EDD July 8 2011. Marking the end of an era with us at First Fridays at the Castle will be Cork's very own astronaut, Dan Tani, NASA's Capsule Communicator at Cape Canaveral. Tani will be providing Blackrock Castle with exclusive video footage for this momentous event!
On Friday July 1, the public are invited to attend this free event and help CIT's Blackrock Castle Observatory make history.
6-8pm: celebrate the shuttle and blast off with four half-hour, hands on, family friendly sessions with BCO's in-house teacher and astronomer, Frances McCarthy. NASA is providing shuttle goodies for all on the night and DJ and thematic maestro, Jim X Comet, will play the soundtrack from his black box of interstellar vinyl.

8-9pm: long-time amateur astronomer Tony O Hanlon will be giving a talk on The Far Side of Infinity, taking us on a breath-taking visual tour of our Cosmos beginning on Earth at the edge of space, journeying to the far reaches of the known Universe, then beyond. We look at what may have been before the Big Bang and what may lie beyond the final days of our Universe.

First Fridays at the Castle is a monthly event at CIT Blackrock Castle Observatory held in association with the Cork Science Café and the Cork Astronomy Club. Click here for more information.
32metre Satellite Dish starts a new life as a Deep Space Radio Telescope
It will be the only 32m radio telescope available to primary students for educational purposes in Europe
| | |
| --- | --- |
| On May 9, 2011 at Elfordstown Earthstation, Midleton, Co Cork, Minister for Research and Innovation, Seán Sherlock TD, announced a partnership between National Space Centre and CIT which will see a huge 32metre satellite dish start a new life as a Deep Space Radio Telescope. | |
The dish was originally constructed in 1984 to take transatlantic telephone calls from Europe to the US, and was retired from use in the mid 1990's when the underground transatlantic cables were laid.
The Deep Space Radio Telescope project will be co-ordinated and operated by CIT under Dr Niall Smith, Head of Research, in conjunction with CIT Department of Applied Physics and Instrumentation and CIT's Blackrock Castle Observatory in the first instance, and will spin into several other departments as plans advance.
The project will be carried out in two phases:
Phase I will see the Deep Space Radio Telescope operational by the end of this summer, with feeds available in September via internet to primary and post primary schools.
Phase II will be carried out over the following year, and will involve the refurbishment of the dish to turn and slew as it originally did and the installation of sensors and new receivers.
The Deep Space Radio Telescope will be capable of detecting a host of cosmic phenomena including:
the emission of giant slow moving hydrogen clouds
the violent explosions of stars
eruptions of the solar surface
storms on Jupiter
enormous galaxy-scale jets of quasars
The project will benefit education and skills training, and research and development and provide incomparable hands-on training and research opportunities for students from primary through to PhD Level. It will be the only 32m radio telescope available to primary students for educational purposes in Europe.
Welcoming the plans Minister Sherlock said "National Space Centre is already active in European Space Agency (ESA) programmes including the Galileo Satellite Navigation Programmes and is actively pursuing additional research and development opportunities both with the ESA and the EU Framework programme. Ireland's ESA membership has contributed to the development of a highly knowledge-intensive industry sector with over 60 Irish technology companies having secured ESA contracts worth over €60m since 2000. We expect this number to grow significantly in 2011," the Minister added.
Dr Niall Smith, Head of Research at CIT, who outlined Phase I and Phase II of the project said that "This project will see a €10m radio telescope brought back to life for less than €10,000 thanks to the partnership between National Space Centre and CIT. It's a great example of using world-class infrastructure in the most cost-effective way to reach out into the community and to embed our growing scientific heritage alongside our world-renowned culture.
It will excite students in schools who will get to listen in on the radio signals from outer space; it will be a testbed for engineering and science projects from primary through to PhD; it will be available to researchers from across Ireland and beyond; it will be an iconic structure only minutes from the famous Jameson Distillery, which we hope in the future to open to tourists and public alike."
Rory Fitzpatrick, CEO National Space Centre "We are delighted to get involved with CIT in this project and look forward to developing this prime scientific asset. We look forward to working with the entire science and astronomy, research and education communities on further projects as we develop."
Tony McDonald, Programme Manager, Space Technologies, Enterprise Ireland welcomed the project saying that "National Space Centre is an excellent example of the growing number of highly innovative indigenous start-up companies developing satellite communications and space related activities in Ireland with the support of the European Space Agency (ESA)."