Exciting End of Year Exhibitions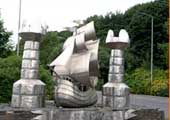 Published on: Thursday, 16 June 2011
At various venues across Cork City.
23rd June
Networking and Embedded Systems Exhibition

9.30am - 6.00pm

CIT's Nimbus Centre (located at the Bishopstown Campus) will host the 1st Networking and Embedded Systems Exhibition. This exhibition will showcase a suite of new research and innovation on networking and embedded systems technologies in Ireland and in particular the work of the HEA PRTLI funded 'NEMBES' project. This programme brings together research groups from Cork Institute of Technology, the Tyndall Institute, UCC, TCD, UCD, NUI-G, Cork University Hospital and Cork City Council. On the day you will get an opportunity to experience the demonstrations and exhibits and meet the research teams working in this important area.
Enquiries to
Kieran Delaney kieran.delaney@cit.ie or Sinead Rodgers sinead.rodgers@cit.ie.




17th – 25th June
'C:/forward'

The 19th annual Crawford College of Art & Design Degree Show comprising 46 graduating Fine Art and Ceramics students, presenting their work through a wide variety of media.

The Exhibition will be officially opened on Friday 17th June at 6.00pm.

For detailed information visit http://www.crawfordexhibitions.com/
Opening times
11am – 6.00pm (Monday to Saturday)
12 noon – 6.00pm (Sunday)
CIT Crawford College of Art & Design,
Sharman Crawford Street, Cork.

10 - 17th June
Re-Imagining Cork

Nexus Centre, CIT's Bishopstown Campus

A group of young designers have taken on the dilapidated buildings of Cork and offered a new perspective on their future. Many buildings that were to face demolition in the boom years now lay idle and decay before our very eyes. CIT's Interior Architecture students have taken on beautiful buildings like the McKenzie building on Camden Quay or less obvious buildings like the R&H hall Building on Albert Quay. They have come up with all sorts of ideas such as an extreme sports centre, an I-Max cinema or much needed Mental Health facilities.

These ideas are part of an exhibition of their work at the Nexus Centre opening at the CIT's Bishopstown campus on Friday June 10th at 6pm and running for a week. The students are hoping to open a dialogue on the future of our built environment. The students have particularly focused on the value of the current buildings in sequestered energy.




Lecturer in Interior Architecture Marc O Riain commented, "In demolition we add energy to landfill without considering the carbon cost of the replacement with new structures. This is becoming more important as the EU and Irish governments have committed to carbon reduction targets by 2020 and as the construction and building services sector are responsible for 45% of all carbon emissions (Mielke 2011), it is completely clear that sustainable refurbishment is the way forward rather than replacement architecture."

3rd - 16th June
The Elysian, Eglantine Street, Cork.

11am - 5pm daily
Opening 2nd June @ 6pm

An exhibition by Third Year Fine Art and Ceramics students of CIT Crawford College of Art & Design, is open to public viewing from 2nd – 16th June. It provides a diverse approach to art during the midsummer exhibition and arts circuit, through the utilisation of a non-art space, The Elysian.

Click here for more information

10th - 15th June
CODA

The CIT Crawford College of Art & Design, Media Communications Department proudly introduces CODA, the graduate exhibition of final year projects from the BA (Honours) in Visual Communications and the BA (Honours) in Multimedia. The show was officially opened by David Phelan, Director of ModeVision and Member of the IDI Council, on 10th June. The exhibition will run until the 15th June from 10am - 5pm.

CODA will showcase the recent work by the graduates, exhibiting the range of skills that the graduates have acquired during their studies at CIT such as graphic design, web design, short film production, animation and interactive installations.

For more information contact: rose.mcgrath@cit.ie

www.coda2011.org

http://twitter.com/#!/CodaExhibition

27th May 2011
Vernissage 2011

NB: The exhibition is open on 27th May from 6 - 8pm.
After that time, viewing is by appointment only.

Cork Centre for Architectural Education (CCAE) Vernissage 2011's annual end of year exhibition of the BSc (Honours) Architecture students' studio works will take place CCAE, 9/10 Copley Street Cork. The exhibition was opened by Prof. Michael McGarry of Queen's University Belfast.


26th May – 1st June 2011
'Impressions'

A Graphic Design exhibition, which showcases the work of the 3rd year BA of Design Communications students, took place on the 1st Floor, Nexus Student Centre Gallery, Bishopstown Campus.