Event: Information Day - Springboard Courses for Job-Seekers
Friday, 26 August 2011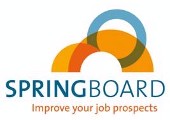 Information Day

Friday 26th August 2011
Time: 2.00pm - 5.00pm
Location: CIT Cork School of Music,
Union Quay, Cork.

Map
Directions to the CIT Cork School of Music
There is parking all along Union Quay and a large public car-park is available nearby at Cork City Hall. If you approach Cork via the Jack Lynch Tunnel, follow the signs for the South Link Road/City Centre - the City Hall carpark is on your left as you come to the end of the South Link Road and Union Quay is only a couple of minutes walk from here.
No loss of benefits for those who take up places
CIT has 350 places on offer on 18 different programmes, under the Springboard initiative which was launched by the Minister for Education & Skills, Ruairí Quinn, TD. These courses are free to eligible people. These programmes are specifically aimed at individuals who are unemployed and seeking new opportunities.
These FREE programmes are open to individuals who have been unemployed for at least six months.
For full details on these CIT programmes including eligibility and application criteria, see Springboard on www.bluebrick.ie/springboard
The full list of courses is given below:
Certificate in Computer Networking;
Higher Diploma in Software Development;