Scholarships Awarded for Summer Portfolio Preparation Course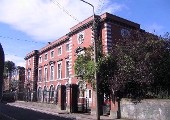 Published on: Wednesday, 22 June 2011
Please click here for information on summer courses run by CIT.
On Wednesday 22 June 2011 there were two presentations of Art Scholarships in CIT Crawford College of Art and Design. The scholarships were awarded for the Summer Portfolio Preparation Course being held in CCAD from July 12th-20th (There are still some places available). The two recipients were Niamh Forde from North Presentation Secondary School and Daniel O'Connor from North Monastery Secondary School. Both Niamh and Daniel have a huge interest in art and are thrilled to have been chosen.

The presentations were made by Orla Flynn; Head of School CCAD and Dan Collins; Academic Affairs and Student Services Manager.
Daniel O'Connor, Orla Flynn and Patrick O'Connor
Dan Collins, Niamh Forde and mum Gillian Forde
Daniel O'Connor, Elaine Dennehy and Niamh Forde
Back: Orla Flynn, Dan Collins, Elaine Dennehy
Front: Patrick O'Connor, Daniel O'Connor, Niamh Forde, Gillian Forde