Siemens Engineers Ireland Innovative Student Engineer of the Year (L7 ) 2011
Published on: Tuesday, 21 June 2011
Please click here to download a summary of winning Project Automated System for the Sand Blasting of Prosthetic Shoulder Stems

CIT Engineering Student Team Danny Allen, Richard Childs and Patrick Byrnes have won first place and been awarded the title of Siemens Engineers Ireland Innovative Student Engineer of the Year (Level 7 ) 2011. The ceremony, sponsored by Siemens, took place at Engineers Ireland HQ, Ballsbridge, Dublin.

Many congratulations to Danny, Richard and Patrick and their supervisors Tony Kelly and Bernard O'Callaghan.

The national award winning mechanical engineering project concerns the design,development, manufacture, commissioning and testing of an automated system for the sand blasting of prosthetic shoulder stems and was carried out in conjunction with Croom Precision Medical of Croom, Co. Limerick.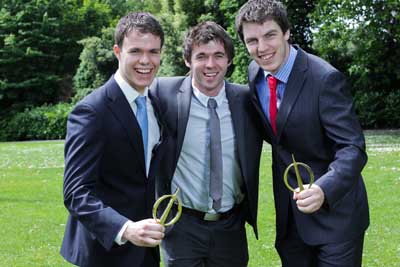 Pictured celebrating their win are (L-R) Danny Allen, Patrick Byrnes and Richard Childs.