Paradox the Fine Art European Forum's Biennial Conference 'Outside In–The Permeable Art School'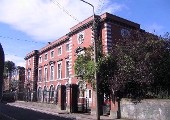 Published on: Wednesday, 07 September 2011
The Conference has been organised and hosted by the CIT Crawford College of Art and Design and will take place on the 8th, 9th, and 10th September.

Paradox is an autonomous co dependent of ELIA (The European League of the Institute of Arts), it is a forum for artists and tutors directly involved in the delivery of Fine Art Higher Education programmes throughout Europe.
The Keynote Speaker is Lewis Biggs OBE FRSA FLJMU Curator, Writer, Cultural Consultant, and for the last ten years the Director of the Liverpool Biennial.

Lewis will speak on The Permeable Urban Fabric – Visual Artists Reclaim the Street.
Outside In–The Permeable Art School- aims to explore how the contemporary Art School is no longer an 'ivory tower' but an institution that reaches out and influences the cultural landscape that surrounds it and the means of reciprocity by which society infiltrates and influences the Art School. The conference will be organised around 4 discussion strands.
The Art School Gallery
The role of the college run gallery. The art school gallery is a place that can be described as a meeting of the inside and the outside where artists, students and teachers form an alliance bringing professionals in contact with training professionals. In its way it is permeable whether the gallery is of the fabric of the building or an external space used for this purpose.
Academy/City/Artist
Post graduation, what is the art school's responsibility and role in enabling their graduates to develop a sustainable cultural environment? What's the benefit of staying in the city where you studied?
Does Fine Art need a Facelift?
If Fine Art is no longer at the centre of Art Education what is it like to be at the periphery.What is the educational consequent response?
Has Fine Art has become a marginal activity within the Academy? If we no longer think of our subject at the centre then where is it? Is it desirable to be on the periphery or even outside the Academy?
Art School as Broker
The Art School facilitating commissions. Case studies/best practice exploring links and relationships with industry albeit in kind, live projects, slack spaces and pop-ups, internships and student initiatives.What is the role and responsibility of the Art School in preparing graduates for professional practice.
Along with the Conference, Paradox is running a student field project for 33 European Fine Art Students called Urban Fabric Cork. For a week prior to the Conference, students will create site specific ephemeral works in response to selected sites in Cork City. Students from Fine Art Departments in Sweden, Norway, Finland, Turkey, Poland, Holland, Britain, Ireland, Spain, Italy and Belgium will be participate in the project.