Event: CIT Career & Postgraduate Options Fair 2011
Tuesday, 04 October 2011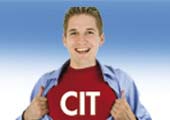 The CIT Career & Postgraduate Options Fair 2011 will be held on Tuesday October 4th from 11am to 3pm in the Nexus Hall of the Student Centre. The Fair will be opened at 11.00am by Mr Sean Sherlock, Minister of State, Department of Enterprise, Jobs & Innovation and Department of Education & Skills with responsibility for Research & Innovation. The Fair is jointly hosted by the Careers & Counselling Service and the School of Graduate Studies.
This year's Fair will provide students and graduates with an opportunity to explore a wide and varied range of options after their degree. It will include:
Employers – SMEs and large multinationals either actively recruiting or providing students with information on possible opportunities for the future.
CIT Postgraduate Options – providing information to students on opportunities for progression to 4th level education at Cork Institute of Technology including research and taught programmes.
Volunteering Options – students will get the opportunity to look at voluntary work in Ireland and abroad, as well as teaching abroad.
Travel – information will also be provided on spending the summer abroad or taking a year out after college to travel and work abroad.
For more information contact;
Careers & Counselling Service – Treasa McSweeney (Acting Careers Officer) at 021 4335774 or Agnes Looney (Administrator) at 021 4335772
School of Graduate Studies – Eamonn Cashell (Dean of Graduate Studies) at 021 4335100 or Andrea O'Driscoll (Administrator) at 021 4335099