Event: Guitars Plus; CSM Flute Quartet; and CAFÉ perform @ Fort Camden
Sunday, 18 September 2011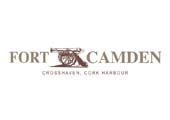 Entry is by donation
Venue: Fort Camden, Crosshaven
Time: 2.30pm
Date: Sunday 18th September 2011
Guitars Plus is a collective of classical guitarists who are senior students of the CIT Cork School of Music. This event promises to be an exciting concert of virtuoso playing by some of Cork's finest classical guitar players. Their programme is a real feast of great music, featuring works by well known composers like Karl Jenkins and contemporary pieces by Rodrigo y Gabriela. The eight member CIT CSM Guitar Orchestra will also perform The Gothic Suite by Steve Marsh. This fantastic music was inspired by the Gothic writings of the American writer Edgar Allen Poe and is great entertainment.

The CIT Cork School of Music Flute Quartet will perform the brilliant Ouverture to the Opera "Semiramide" by Rossini.

CAFÉ (Cork Adult Flute Ensemble) is a flute choir based in Cork. Comprised of professional flute-players and enthusiastic amateurs they will present some fun family favourites – join the cowboys for Scenes from the West or swing your hips to Caderas!