Art Portfolio Preparation Course begins 15th October... enrol now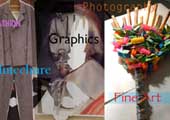 Published on: Tuesday, 04 October 2011

Course Code AR015
Course Fee €480
Saturdays 10am - 1pm (Max. 22)
Venue: CIT Crawford College of Art & Design. Sharman Crawford Street, Cork.

Commencing on the 15th October, this is a 15-week course suitable for those seeking art college entry.
Participants will be tutored in composition, observational drawing, life drawing, painting, and developing a sketchbook. Other activities, such as photography, collage, 3D, and gallery visits are covered during the course. Tuition will be given in developing a wellbalanced portfolio.
Further enquiries to:
CIT Crawford College of Art & Design,
Sharman Crawford Street,
Cork.
T: 021 433 5200
E: ccad.enquiries@cit.ie