Event: Cork Orchestral Society Opening Festival
Thursday, 29 September 2011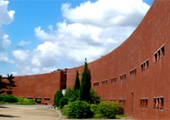 CIT CSM presents Cork Orchestral Society Opening Festival
A very exciting season of artists & programmes has been announced by Cork Orchestral Society for Autumn/ Winter 2011. The Opening Festival of the season will take place this weekend in The CIT Cork School of Music.
For further info www.corkorchestralsociety.ie

Thursday 29 September
Barry Douglas (piano)
Curtis Auditorium, CIT Cork School of Music


8 p.m.

Beethoven Piano Sonata in C, Op. 53 ( "Waldstein")
Brahms Handel Variations, Op. 24
Mussorgsky Pictures at an Exhibition
Barry Douglas, enjoying fresh acclaim for his recent
BBC Proms performance, makes a triumphant return
to Ireland. Mussorgsky's rich-hued set of tableaux
never fails to conjure up crystal clear images and the
Russian favourite will sizzle with his commanding
musicality. One of Beethoven's outstanding
masterpieces, Douglas' 1993 recording of the
"Waldstein" is considered among the finest. With
Brahms' wonderful "Handel" variations, this is a
generous programme from one of the world's greatest


Friday 30 September
vox merus (brass quintet)Curtis Auditorium, CIT Cork School of Music

1.10 p.m.



vox merus (transl. Latin - 'pure voice')
The newest professional Irish chamber music group, vox merus presents its 2011 concert programme to
venues across the country. Original works for brass,
ingenious new arrangements and music by Irish
composers (including the world premiere of Five Run
Away Together by young Irish composer Daniel
Barkley) are brought together in a touring project that aims to bring the highest calibre of brass performance to a truly diverse Irish audience.


Friday 30 September
RTÉ Vanbrugh Quartet
Curtis Auditorium, CIT Cork School of Music

8 p.m.


RTÉ Vanbrugh Quartet
Cormac Ó hAodáin (french horn)
& Barry Douglas (piano)
Stanford Fantasy for French Horn & String Quartet
Mozart Quartet in C,"KV 465 ("Dissonance")
Brahms Piano Quintet
RTÉ Concert Orchestra principal, Cormac Ó hAodáin, will
be an ideal collaborator to realise Keith Pascoe's
edition of Stanford's neglected masterpiece.

You can also hear the Vanbrugh Quartet playing
Haydn, Frederick May, and Schubert's Death and the Maiden in the Grain Store, Ballymaloe House, at 8.00 p.m. on Sunday 23 October 2011.