Gold Medals for Ireland in 41st World Skills Competition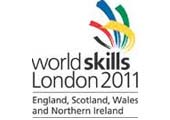 Published on: Monday, 10 October 2011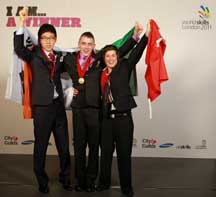 The WorldSkills Competition is a biennial event that benchmarks craft/skill training and education among the 55 participating countries. The competitions were held over 4 days with approximately 990 competitors and a similar number of experts (industrial trainers and teachers) acting as judges in each of the 45 skill areas.
| | |
| --- | --- |
| | Kieran Doherty, from Coachford, Co. Cork, won a Gold Medal for Ireland in Electrical Installations at the 41st WorldSkills Competition in London. Kieran was part of the Irish Team which won 3 Gold Medals overall: Aircraft Maintenance; Electrical Installations; and Plastering and Drywall Systems, and achieved 5 Medallions of Excellence. Kieran did his apprentice training at CIT and was accompanied by Expert/Trainer Michael Hourihan, lecturer in Electrical Engineering at CIT. |
Matt Cotterell, Head of School of Electrical and Electronic Engineering, CIT said: "Well done to all the competitors, experts, and all who assisted in the training of competitors at different stages in CIT".
| | |
| --- | --- |
| | Also winning gold for Ireland was Gary Condon in the Plastering and Drywall Systems competition. Gary worked over a four day period to complete various tasks from dry construction, dry lining, running decorative mould work on bench as well as skimming, planting decorative mouldings and skirting mouldings. There was also a free style element which Gary successfully replicated the iconic building the "Big Ben" shown in the photograph. |
Tomás A.Reidy, Department of Craft Studies, CIT said: "Gary successfully completed and deservedly won the Gold medal in plastering. Great credit must be given to Mr Joe Clarke, Fás Training Centre Waterford for his remarkable achievement of training two World Skills Gold Medalists and for training Gary to World Skills Gold Medal standard. I would also like to congratulate Colin Callaghan and Kieran Doherty on winning gold medals in Aircraft Maintenance and Electrical Installations, Well done to all the Ireland team, competitors, experts and managment."
Ireland has participated in all of the 35 World Skills competitions held since 1957. During this period, 670 competitors representing Ireland have won 53 gold medals, 53 silver medals, 78 bronze medals, and 145 diploma/medallions. At the last competition held in Calgary, Canada in 2009, the Irish team of 11 competitors won 3 gold medals, 2 bronze medals and 5 medallions. Ireland has hosted the competition on two occasions, 1963 in Dublin and Cork, 1979.
The competitions are an excellent promotional event for apprenticeships / traineeships in Ireland and this encourages school leavers to consider a trade/skill as a career. They showcase the existing crafts and skills in the country. They encourage industrialists and others to consider Ireland as a location for investment. They also benchmark the quality of the vocational education and training in Ireland against the best in the world. Visiting educators and industrialists can see evidence of the high standard of vocational education and training that is taking place in Ireland.