Design Week 2011 - Graduate Exhibition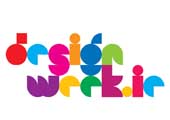 Published on: Monday, 31 October 2011
CIT CCAD's Department of Media Communications and the Institute of Designers of Ireland in association with Design Week 2011, invite you to a series of discussions with previous graduates, followed by an exhibition of their work.
The exhibition will host a variety of illustration, photography, video and animated pieces from a selection of talented graduates from the Dept of Media Communications. Graduate work on display will range from the years 2003 to 2011.
01.11.11
On the day, discussions with graduates in Visual Communications and Multimedia Graduates will be held between 10am until 5pm.
The official opening of the exhibition is at 6:30pm with the exhibition running from the 1st to the 5th of November, between the hours of 9am and 5pm.
All events on the 1st November will take place in the upstairs gallery of the Nexus Student Centre. For further information go to http://media.cit.ie or www.designweek.ie
Schedule of the Visual Communications and Multimedia Graduate Talks:
Trailer to the upcoming movie The Kid.
Produced & Directed by Brendan Canty and Conal Thomson
Staring Emmet O'Riabhaigh and James O'Connor