Radisens Diagnostics, based in the Rubicon Centre, CIT Bishopstown Campus, has been awarded a €1m contract by the European Space Agency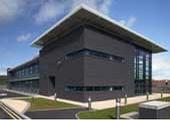 Published on: Friday, 04 November 2011
Radisens Diagnostics, based in the Rubicon Centre, CIT Bishopstown Campus, has been awarded a €1m contract by the European Space Agency to develop a blood testing device for astronauts on board the International Space Station as well as various space missions.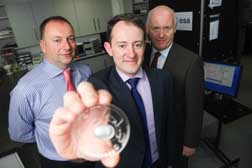 The European Space Agency (ESA) has contracted Radisens Diagnostics to add a thyroid test to their point-of-care device which is currently in development at their facility in the Rubicon Centre. ESA wants to use the device on board the International Space Station and on various human spaceflight missions where it is essential to get instant, laboratory grade results for myriad health conditions.

Read more ...
Photo: Sean Sherlock T.D. Minister for Research & Innovation, holding the innovative point-of-care assay panel with Dr. Ian Hayes, Business Development Director at Radisens Diagnostics (back left) and Tony McDonald, Manager Space Technologies Programmes, Enterprise Ireland.