CIT celebrates Science Week 2011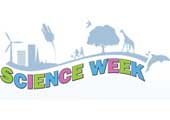 Published on: Saturday, 12 November 2011
Discovery Science Festival
November 7 – 19
The Festival, now in its 14th year aims to bridge the gap between students and industry through encouraging students to choose STEM (Science, Technology, Engineering, and Mathematics) as their preferred subjects and chosen career.
StarDome at City Hall November 12 – 13
CIT's Blackrock Castle Observatory (BCO) has an action packed programme celebrating the Discovery Science Festival and Science Week
The StarDome, our portable planetarium, will be at Cork City Hall for the Discovery Science Festival for the family days on November 12th & 13th from 14:00 – 18:00 and for School Visits on November 14th & 15th from 9.30 -2.30. Discover the wonders of the night sky!

Discovery will see the first live data feeds from the 32m radio antennae 'Big Dish' at National Space Centre. These are relayed as Signals from Space with audio and visualisations from CIT Multimedia and Music and tested by Regina Mundi and Scoil Dabhaid Transition Year students. The signals will be online at www.sciencespace.ie on the 14th November.
Cosmis Careers
Discovery Science Festival, in association with CIT and with CIT Blackrock Castle Observatory will hold a very special careers event on Monday Nov 14 as part of Science Week Ireland 2011.

An audience of 3rd to 5th year second level students from Cork City & County will be invited to the CIT Nexus Centre from 10.00-13.00 to hear and see what their future could hold in the exciting arena of space exploration. In the past, working in this area would have been seen as an impossible aim for a young person growing up in Cork – 'It's only Americans that go into space!'.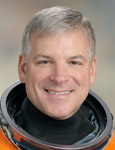 We will be hearing from astronaut, Greg Johnson (NASA) and from people born and/or working in Cork who have made a significant contribution to this exciting field, showing students that the sky is no longer the limit when it comes to their career prospects.
| | |
| --- | --- |
| Time | Event |
| 10.00 | Students meet CIT Blackrock Castle Observatory, CIT & Nimbus postgraduate researcher; |
| 10.30 | Rob Hill (Northern Ireland Space Office) with a 3D tour of the Universe; |
| 11.00 | Official opening with Minister Sean Sherlock; |
| 11.15 | Con McCarthy, (retired European Space Agency) on the Mars & Venus exploration programmes he managed; |
| 11.35 | Carl Jackson, SensL on careers in Cork contributing to space exploration; |
| 11.55 | Greg Johnson (NASA) – the perspective of a real live astronaut Q&A. |
ESERO Ireland, The European Space Education Resource Office in Ireland, will showcase the opportunities available to Irish students and teachers in promoting careers in space science. This event runs as part of the Discovery Science Festival, which promotes learning in behalf of Cork City Development Board and is a main partner in Science Week Ireland. Working closely with CIT and CIT Blackrock Castle Observatory, who sit on the planning group, the aim of Discovery is to encourage students to take science, technology, engineering and mathematics through secondary school, into third level and on into careers in STEM related fields.
School workshops with BCO's in-house astronomer Frances McCarthy
November 7th – 17th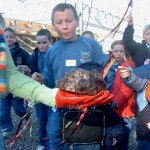 Frances will be visiting Cork city and county schools during Discovery to bring the magic of the Universe to students through interactive workshops for both primary and second level schools.
Signals from Space November 14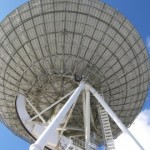 Get ready for Signals from Space … National Space Centre in partnership with BCO welcomes the winner of the 'Name the Big Dish' competition to activate the 32m radio telescope!
Mars Science Laboratory – In Search of Origins.
Presented by Kevin Nolan from the Irish Planetary Society November 18th - 20:00hrs
Kevin Nolan will present iconic and 3-D images from the 8 spacecraft operating on and around the planet Mars; as well as present details of the imminent Mars Science Laboratory (MSL) "Curiosity" mission, due to launch to Mars on the 25th November 25th.
Celebrating the theme "The Chemistry of Life" for Science Week Ireland 2011, Kevin will explore
1. The search for the origin and cosmic abundance of life
2. The search for life on Mars
3. How Mars exploration connects the questions of the origin and cosmic abundance of life
4. What the Mars Science Laboratory "Curiosity" will tell us about the search for Origins
Open to all on a first come first served basis
Science Juice
November 19: 15:30 – 17:00
Science Juice is a youth extension of the Cork Science Café which sees scientists present out of the academic environment, sharing the power of STEM (Science, Technology, Engineering, and Mathematics) with teenagers. Come to the upper Food Court at Mahon Point, Cork to talk about Mars with Kevin Nolan, The Planetary Society. Kevin will present a 3D show: Mars Science Lab – In Search of Origins. Suit ages 13-18. Free juice from the Bagel bar.