Event: Let's Get Munster Selling - Conference at the NMCI
Wednesday, 30 November 2011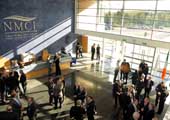 Kieran Moynihan. Entrepreneur in Residence at CIT, will speak at a sales conference entitled "Let's Get Munster Selling" on Wednesday, 30th of November at the National Maritime College of Ireland in Ringaskiddy.

The conference will provide a unique opportunity to hear recognised experts in the area of business development and customer loyalty who will share successful strategies for maximising sales performance in terms of planning, sales process, customer acquisition, using cloud effectively, customer loyalty & retention, and social networking.
Other speakers who will share their experiences and give their professional advice throughout the day are Brian Purcell, judge on TV3's The Apprentice; Nicola Byrne, Entrepreneur and Founder of 11890; and Former International Rugby Hooker and Entrepreneur, Shane Byrne, who won 41 caps for Ireland.

Speakers will include recognised experts in the areas of Customer Acquisition, Entrepreneurship, Customer Based Marketing, Sales Process Design, Professional Performance Analysis, Growing your Customers, and Building Winning Teams.
The Entrepreneur Skillnet has put together a team ranging from Entrepreneurs, Business & Sales Experts, International Sport and Business Education who are the best in their field. The day is broken into four sections: Conference, Workshops, Networking opportunities and Open Panel Discussion. Delegates have the opportunity of attending two of a choice of four lively interactive workshops including "Planning and Designing an Effective Sales Process" and "Build Lifelong Customers with World Class Customer Service".
This premier networking event is aimed at the CEO, Sales Director, Sales Manager, Business Owner, Entrepreneur, and all who are looking for ways of growing their business in the present climate.

Attendees will also get the chance to have a tour of the NMCI which is Europe's most advanced maritime college. The tour will consist of a storm at sea demonstration in the environmental pool and delegates will also get to cruise into Sydney Harbour in our 360° degree bridge simulator.

The conference costs €100 per delegate (early bird €80), to book log onto www.ryanacademy.ie or Tel: (01) 700 6762.