Event: PRE-OCCUPY CIT ... A flash mob of social science researchers will descend on the CIT Bishopstown campus
Tuesday, 22 November 2011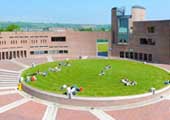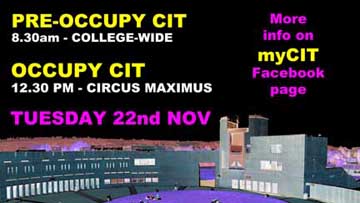 A flash mob of social science researchers*will descend on the CIT Bishopstown campus on Tuesday 22nd November (8.30am – 1pm). Armed with questions, fifteen roaming teams will quiz a random sample of the CIT student population on a range of issues, from on-campus parking to how the student body feels about one-night stands. Expect to meet them in a corridor, green space or toilet near you...
RACE FOR SPACE
will record just how content students are with current parking conditions and determine what improvement options students would favour. Registration for SOCIAL CAR – a rewards-based car-pooling system to be piloted in the CIT's Astroturf car-park on Wednesday 24th November - will take place in the Main Foyer between 8.30am and 12 noon 22nd November. (Initiative supported by Kevin McCarthy, Buildings and Estates Office)
DIRTY BUSINESS
will assess satisfaction levels with current toilet hygiene practice, as well as conduct an experiment to determine whether visible policing of selected toilets could benefit toilet performance college-wide. (Initiative supported by Wendy Kenny, Chief Cleaning Supervisor)
Don't 'Dis' My Ability
will monitor student reactions to images of people who have impairments, as well as offering people an opportunity to experience the campus as a person without sight or in a wheelchair. (Initiative supported by the Fr Dave McAuliffe, Chaplaincy)
"Being unable to walk is an impairment, whereas being unable to enter a building because the entrance is up a flight of steps is a disability;
an inability to hear is an impairment, whereas an inability to communicate clearly because appropriate technical aids are not available is a disability" (Webb & Tossell, 1999, p.124).

Our group would like to take opportunity and thank Dr Brendan Murphy for what he has achieved for people with impairments. If 'There's a Wheel- There's a Way' look forward to further accomplishments by CIT for people with impairment to be able to achieve their full potential.
BINGE-BUSTERS
will gather data on students' drinking habits and their knowledge of what constitutes binge-drinking.
HOMO-SEXUAL
will measure attitudes towards Gay, Lesbian, Bisexual and Transvestite students in CIT and track trends in sexual orientation on campus.
STRAIGHT FLUSH
will canvass students on their attitudes to gambling and their gambling habits.
FOR ONE NIGHT ONLY
will attempt to quantify the incidences of one-night stand encounters in the student population.
ID PLEASE
will grill students a on their experiences of security personnel in the Cork nightlife scene.
NITPICKERS
will scrutinise the CIT male student on his grooming habits.
YOU ARE WHAT YOU EAT
will investigate the daily eating habits of the student population.
SELL YOURSELF
will measure student familiarity with current Irish legislation on prostitution, as well as students' views on prostitution and associated activities.
MULTICULTURALISM
in CIT will promote the idea that in CIT we are all equal and assess student interest in the setting up of a multicultural society in CIT.
STUDENTS TRACKING INFECTIONS (STI)
will quiz students on their knowledge of and susceptibility to Sexually Transmitted Diseases.
The PRE-OCCUPY CIT stand in the main foyer will shut down at 12 noon. The PRE-OCCUPY FLASHMOB will then form a procession to the CIRCUS MAXIMUS to join OCCUPY CIT for an audience with the President, Dr Brendan Murphy at 12.30pm.
OCCUPY CIT is a pop-up occupation of the CIRCUS MAXIMUS CIT to measure support for the OCCUPY movement (CORK/DUBLIN/LONDON/ WALL STREET). This is a satellite installation of OCCUPY CORK, organised by Social CARE 1st year students, networking with media designers using social networking. Speakers from OCCUPY CORK will address the assembled multitudes at 12.15 pm. The student flashmob will present the President of CIT, Dr Brendan Murphy, with petitions relating to the most pressing issues they face as students.
(Tents on the CIRCUS MAXIMUS have been erected under the auspices of the President of CIT, Dr Brendan Murphy.)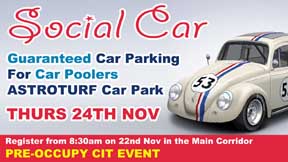 CIT MODULE PLAY RESEARCH PROJECT where Social Care 1st year students play around with social science research methods and publish their results in CIT's Students' Union magazine, Explicit.

The idea is to get students immediately involved in research (in a fun way) in Semester 1 of their degree. PRE-OCCUPY CIT GRAPHIC DESIGN is produced by teams of 1st year Media Communications students using social networking to communicate with their clients, the social care students.
RE-OCCUPY CIT Project involving 120 students is an illustration of what can be done with a positive mental attitude, as promoted by Positive Mind and Body Week launching also on Tuesday 22nd November in CIT. PRE-OCCUPY CIT shows how creative teamwork with a focus on action and fun (the Creativity, Innovation & Teamwork Module) can promote well-being and mental health.
PRE-OCCUPY project Lecturers: Catherine Elwood (Department of Media Communications) and June O'Reilly (Department of Social and General Studies)