Event: The Faculty of Engineering & Science Annual Engineering Awards Ceremony
Thursday, 24 November 2011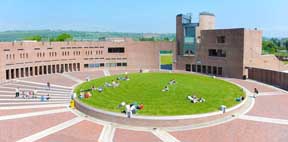 The Faculty of Engineering & Science Annual Engineering Awards Ceremony honouring its outstanding graduates of 2011 will take place on Thursday, 24 November 2011. Reception at 5:30pm in the Bistro, followed by the Awards Ceremony at 6:00pm in the Nexus Student Centre, CIT Bishopstown Campus.
Master of Ceremonies for the evening is Mr John O'Shea, Former Head of the Department of Chemical & Process Engineering.
Mr Michael Loftus, Head of the Faculty, will give the closing address.
School of Mechanical & Process Engineering
Head of School: Mr Matt Cotterell
Department of Manufacturing, Biomedical & Facilities Engineering
Head of Department
Mr Daithí Fallon
Best Degree Student
Recipient – Gavin O' Brien
BEng in Biomedical Engineering
Sponsor – Stryker Orthopaedics/
Stryker Howmedica Osteonics
Presenter – Mr Trevor Long


Best (Honours) Degree Student
Recipient – Daniel Lynch
BSc (Honours) in Advanced Manufacturing Technology
Sponsor – Boston Scientific Ireland Ltd
Presenter – Mr Tom O'Connor

Best Continuing Education Student
Recipient – Brian Driver
BSc (Honours) in Process Plant Technology
Sponsor – Claran Consultants
Presenter – Mr Mike Halpin


Clíona Magner Bursary
Recipient – Andrew Cotter
BEng (Honours) in Mechanical Engineering
Sponsor – Pat & Deirdre Magner
Presenter – Dr Deirdre O'Grady
Department of Mechanical Engineering
Acting Head of Department
Mr Matt Cotterell
Best Degree Student
Recipient – Pádraig Tadhg O'Connell
BSc in Transport Management & Technology
Sponsor – Miko Metals
Presenter – Mr Jim McLean


Best (Honours) Degree Student
Recipient – Rian Edman
BEng (Honours) in Mechanical Engineering
Sponsor – Project Management Group
Presenter – Mr Billy O'Neill

Best Transport Project
Recipient – Pádraig Tadhg O'Connell
BSc in Transport Management & Technology
Bernard Dowling Trophy
Presenter – Mr Pat O'Shaughnessy


Best Continuing Education Student
Recipient – Denis Aherne
BEng in Mechanical Engineering
Sponsor –Society of Manufacturing Engineers
Presenter – Mr Mike McKeon
Department of Chemical and Process Engineering
Acting Head of Department
Mr Matt Cotterell
Best Higher Certificate Student


Recipient – Patrick Buckley
HC in GMP & Technology
Sponsor – Janssen Supply Chain
Presenter – Ms Deirdre Power

Best (Hons) Degree Student
Recipient – Siobhán Lee
BEng (Hons) in Chemical & Biopharmaceutical Engineeriing
Sponsor – Glaxo SmithKline
Presenter – tbc
Best Continuing Education Student
Recipient – Declan O'Mahony
BSc in GMP & Technology
Sponsor – Novartis
Presenter – Ms Esther Barry
Centre of Craft Studies
Head
Mr John Twohig
Best Apprentice in Metal Fabrication

Recipient – James Cooney
Sponsor – Irish Oxygen Company Ltd
Presenter – Mr Finbar Constant

Best Apprentice in Electrical
Recipient – Conor Cusack
Sponsor – Granby Electrical
Presenter – Mr Chris Granby



Best Apprentice in Refrigeration/AC
Recipient – Aidan Lowry
Sponsor – Supples Ltd
Presenter – Mr Brian Herlihy

Best Apprentice in Carpentry & Joinery
Recipient – Jason Twomey
Sponsor – Supples Ltd
Presenter – Mr Brian Herlihy


Best Apprentice in Plastering
Recipient – Stephen Hoare
Sponsor – Gypsum Industries Ltd
Presenter – Mr Eamon Murphy

Best Apprentice in Painting & Decorating
Recipient – Lee Coleman
Sponsor – Liam Feehely Ltd
Presenter – Ms Catherine Feehely

Best Apprentice in Fitting
Recipient – Eamonn Slattery
Sponsor – Neff Design
Presenter – Mr Ger Neff

Best Apprentice in Plumbing
Recipient – Paul Joyce
Sponsor – Pipe Tools Service & Supply
Presenter – Mr John Stout

Best Apprentice in Construction Plant Fitter
Recipient – Cian Lawson
Sponsor – Metlab
Presenter – Mr Pat Twomey

Best Apprentice in Motor Mechanic
Recipient – Thomas Stack
Sponsor – Metlab
Presenter – Mr Noel O'Halloran
School of Electrical & Electronic Engineering
Acting Head of School: Mr Matt cotterell
Department of Electronic Engineering
Head of Department
Dr Joe Connell
Best Degree Student
Recipient – Edmund Walsh
BEng in Electronic Engineering
Sponsor – Cypress Semiconductor Ireland
Presenter – Mr Ian Kennedy


Best (Honours) Degree Student
Recipient – Anju John
BEng (Hons) in Electronic Systems Engineering
Sponsor – Cork Electronics Industry Association
Presenter – tbc

Best Taught Masters Degree Student
Recipient – Colin Walsh
MEng in Embedded Systems Engineering
Sponsor – Liam Lynch Jewellers
Presenter – Mr Eoin Lynch
Department of Electrical Engineering
Head of Department
Dr Joe Connell
Best Degree Student

Recipient – Shane Kiely
BEng in Electrical engineering
Sponsor – PM Group
Presenter – Mr Tom Nelly

Best (Honours) Degree Student
Recipient – Brian O'Sullivan
BEng (Hons) in Electrical Power Systems
Sponsor – E.S.B.
Presenter – Mr Donal Caples
School of Building & Civil Engineering
Head of School: Dr Joe Harrington
Department of Civil, Structural & Environmental Engineering
Head of Department
Mr Des Walsh
Best Degree Student

Recipient – John Paul Gamble
BEng in Civil Engineering
Sponsor – Arup Consulting Engineers Presenter – Mr John O'Mahony

Best (Honours) Degree Student
Recipient – Daniel Coleman
BEng (Hons) in Structural Engineering
Sponsor – Roadstone Wood
Presenter – Mr Michael Buckley


Best (Honours) Degree Project
Recipient – Helen Dunne
BEng (Hons) in Structural Engineering
Sponsor – CIT
Presenter – Mr John P Murphy

Best Taught MEng Degree Student
Recipient – Michael Minehane
MEng in Structural Engineering
Sponsor – RPS Group
Presenter – Mr John Shalloe


Best Continuing Education Student
Higher Certificate in Engineering in Civil Engineering
Recipient – Aidan Philpott
Sponsor – CIT
Presenter – Mr Des Walsh
Department of Construction
Head of Department
Dr Daniel Cahill

Best Degree Student
Recipient – Michael Gaughan
BSc Quantity Surveying
Sponsor – Society of Chartered Surveyors Ireland – Southern Region
Presenter – Mr P. J. Power

Best (Hons) Degree Student
Recipient – Barry Gleeson
BSc (Hons) Construction Management
Sponsor – Chartered Institute of Building
Presenter – Mr John Hillis
Best Continuing Education Student
Recipient – Caroline Gordon
BSc Construction Management
Sponsor – CIT
Presenter – Dr Daniel Cahill
Department of Architecture
Head of Department
Ms Katherine Keane

Best Degree Student Interior Architecture
Recipient – Sinead Crowley
BSc Interior Architecture
Sponsor – Henry J. Lyons & Partners Architects (Ireland)
Presenter – Mr Pat Hogan

Best (Honours) Degree Student Interior Architecture
Recipient – James Pittam
BSc (Hons) Interior Architecture
Sponsor – Reddy O'Riordan Staehli Architects
Presenter – Mr Paul Butler
Best (Honours) Degree Student Architectural Technology
Recipient – John Scanlon
BSc (Hons) Architectural Technology
Sponsor – RKD Architects
Presenter – Mr Neil Tobin


Best (Honours) Degree Student Architecture
Recipient – Laura Mellett
BSc (Hons) Architecture
Sponsor – Southern Region of the Royal Institute of Architects in Ireland
Presenter – Mr Paul McNally