John Gibson celebrates launch of CD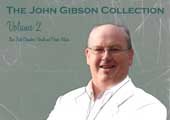 Published on: Tuesday, 22 November 2011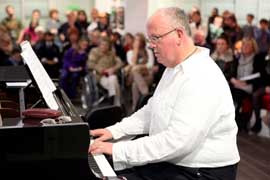 An enthusiastic crowd gathered at the CIT Cork School of Music for the launch of John Gibson's latest CD 'The John Gibson Collection Vol 2' which marks John's 60th year. It features works composed over the past 40 years — a retrospective of his compositions featuring the Vanbrugh, mezzo Amanda Neri, soprano Deirdre Moynihan, cellist Carol O'Connor, and John on Piano. Orla Flynn, acting head of CIT Crawford College of Art and Design, paid tribute to John's long contribution to the CIT Cork School of Music (CSM) and to the cultural life of the city. John has lectured in the CSM since 1982.
John has performed extensively over the past 30 years, with the National Symphony Orchestra, the RTE Concert Orchestra and the RTE Vanbrugh String Quartet. His compositions include a Chamber Opera, Songs, Orchestral works and much Piano music along with 3 String Quartets. Commissions include a test piece for the AXA Dublin International Piano Competition, which received its premiere performance in Cork at the Piano Portraits series in March 2007. A new String Quartet titled "IKON" written for the RTE Vanbrugh String Quartet, received its world premiere at the West Cork Chamber Music Festival on the 26th of June 2006, in Bantry House. It was broadcast live to six countries including Poland and Germany. In 2007 John was commissioned to write a Nocturne for the right hand by Ian Fox for the leading Irish Pianist John O'Conor. In the same year he wrote a Lament for Voice, Cor Anglais and Piano. This was a private commission and the work will be included in his forthcoming new CD. Another recent private commission was Proverbs 13:12 for Piano. In 2009 he wrote a psalm setting for Madrigal 75 the distinguished choral group from Cork. John was very happy to receive the commission from Cork City Council for "Christ Church Music" in 2010.The work is in four movements and was completed in the summer of 2010.
To date 5 CD's of his music have been issued, many with Arts Council funding. The first staged performance of his Chamber Opera, "Judith and Holofernes", was sponsored by Cork 2005-European Capital of Culture. Much of John's music is played regularly on RTE Lyric FM especially the Music Box for Piano. His works have also been performed and heard in China, Brazil, America, Russia and throughout Europe and Japan. This is due largely to the work of the Contemporary Music Centre in Dublin, which promotes Irish Composers' work abroad.
In 1997 John was awarded the prestigious Nijinsky Medal for his piano piece Nijinsky, by the Polish Ministry of Arts and Culture and the International Society of the Friends of Vaclav Nijinsky. He is the first composer to receive this honour.
| | |
| --- | --- |
| John with Dr Geoffrey Spratt, Director of the CIT Cork School of Music, and Orla Flynn, acting Head, CIT Crawford College of Art & Design. | Valerie Fletcher and Anne Donnelly. |
| Denis Coffey, Declan Counihan and Marie Coffey. | Miriam and Micheal De Barra. |