IT Services wins Outstanding IT Department at it@cork Leaders Awards 2011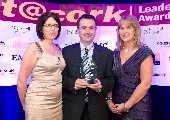 Published on: Friday, 25 November 2011
IT Services Department at CIT have been announced as the outstanding IT Department at the fifth annual it@cork Leaders Awards Ceremony. The awards took place in the Maryborough Hotel & Spa and Gavin Duffy, Entrepreneur and Dragon's Den Presenter, was guest speaker on the night.
The IT Department at CIT has 20 staff supporting over 1000 academic staff and over 15,000 students. The department has been faced with increased demand for better services, growing student numbers and shrinking IT budgets. To address these challenges, the IT department has moved many CIT's key services to use cloud computing technologies.
Norma O'Callaghan, VP European Finance & Business Operations, Trend Micro EMEA and chair of the it@cork Leaders Award judging panel for the leading IT Department explained why the award recipient was chosen.
"While all entries provided excellent cases of the deployment of technology in industry, the winner of the Leaders Award stood out for the judges because of their exemplary and innovative approach to the delivery of cloud computing across their organisation.
The IT department at CIT has revolutionised the use of IT on campus, and has adopted a new and strategic way of provisioning education through technology. Spearheaded by the head of IT, Gerard Culley, the activities of the CIT IT department has had enormously positive consequences for the students and the college, but as significantly for the region and the ability for academic and industry to work together.
The adoption of this technology and the manner in which it was conducted (through close engagement with the students and staff), enables the college to be highly competitive in the provision of education, and provides a means for students, academics and the college administration to embrace technology in their day-to-day activities for the betterment of the college.
The judges were very impressed by the vision and passion of the IT department at CIT, and believed they truly deserved to be recognised as leaders in their field, and worthy recipients of the it@cork Leaders Award for an outstanding IT department,"
CIT IT Manager, Gerard Culley, said "CIT has used a number of Cloud services from Industry partners, particularly in the Cork region to better serve its student customers and has seen a significant improvement in service quality and student satisfaction since embarking on this strategy.
The IT department now has a team dedicated to leveraging and exploiting cloud services for the college. The CIT cloud experience is an example of how close collaboration between an IT Department, the Academic experts in computing and the key industry experts, working together can yield benefits for all concerned, but particularly for the students."
The awards recognise the Leaders in Technology and Business Innovation. CIT faced strong competition from two other companies in their category, VMware and PepsiCo.