105 Student Sport Stars were presented with CIT Bursaries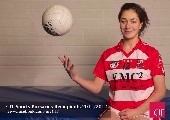 Published on: Wednesday, 30 November 2011
The CIT Sports Bursary Evening took place on Wednesday, 30th November, at the Oriel House Hotel, Ballincollig. The event saw 105 student athletes, across 18 different sports, being presented with a prestigious sports bursary. The guest speaker, Republic of Ireland Ladies Soccer Manager Sue Ronan, performed the presentations along with sharing her sporting experiences as both an international soccer player and manager.
CIT allocates sports bursaries annually to students who display a high level of achievement, commitment and dedication in their chosen sport. The standard and competition for bursaries is exceptionally high with many recipients boasting All Ireland titles, Provincial honours, M.V.P's, World titles and International caps. The bursary scheme is designed to help students reach their full potential both in their sport and also in their academic careers.
In total 105 bursaries were awarded including 11 Munster Council GAA Bursaries, a Cadburys GAA Bursary, and an EMC GAA Bursary. A welcome addition of 12 Munster Rugby/CIT Rugby Bursaries were also presented on the evening to highlight the commitment of Munster Rugby CIT which is now home to the Cork based Munster Rugby players. Two Cork City Bursaries and one John Herlihy Foundation Bursary for Soccer were presented for the first time.
Following on from CIT's success at the Intervarsities for the second year running, a remarkable 5 bursaries were presented for Hockey. Andrew Daunt, David Smith and Roger Gray received bursaries along with fellow club members and Irish players, Yvonne O'Byrne and Cliodhna Sargent. The addition of an 1100 seated Athletics Stadium to the Institute has certainly promoted a prominent athletics club. Among the athletes recognised was sprinter Cathal Owens & pole-vaulter Thomas Houlihan who have both competed in the European Youth Olympics. Also receiving a Bursary for athletics was Sinead O'Connor who is the current holder of the U19 National title for triple jump.
Among the bursaries allocated for soccer was Emma Farmer who played in the U19 UEFA Championships with Ireland, Orla Barry who is currently playing on the Cork Women's team competing in the FAI Women's National League and Cian O'Connor who won the treble with Cork City Youths in 2011. On the rugby front, Richard Moran and Cian O'Donnell are both Munster Schools Senior Cup winners with Rockwell and were both selected on Munster underage teams. Superleague basketball players Ciaran O'Sullivan and Mark Mitchell were recognised on the night, both of whom have played at U18 level for Ireland at the European Basketball Championships.
Others recognised on the night were Naomi Coonghe who is the current best overall junior Tae Kwon Do female in Europe, and Paidi O'Brien for cycling who is a former professional cyclist for the Sean Kelly An Post Team. Cork Golf Club members John Hickey & Mark Lehane and Cobh Golfer Ross O'Sullivan were also amongst recipients. A first for the Institute was a bursary for Motorcross going to Aaron Beausang, who came in 2nd position in Southern Centre U21 Championship 2010. Munster U21 Number 1 ranked table tennis player Ian Brown was also awarded.
The standard for rowing and sailing continues to grow with recipients including Gillian Hosford (Irish Championship Winner Women's Senior Quad) and Lisa Dilleen (4th Place finish in the Women's Double at the Junior World Championships). After a commendable 3rd place podium finish at the Student Yachting World Cup, CIT presented Denis Good and Dermot Coughlan for Sailing.
On the GAA front, Cork Hurlers Stephen McDonnell and Lorcan McLoughlin along with Kerry U21 Football captain Mark Griffin were all recognised. Cork Camogie player Mariah Reidy and Danielle O'Shea, Senior Club All Ireland Championship winner with Inch Rovers were also awarded at the event.
CIT is very proud of the huge array of sporting talent being recognised which is a true reflection of the Institute's commitment to the development of sport amongst its student athletes.
For more photo please visit our myCIT Facebook page