Event: Cork Guitarists to perform at the National Maritime College of Ireland
Thursday, 08 December 2011
Cork Guitarists sail to a new adventure in the National Maritime College of Ireland, Ringaskiddy on Thursday, 8th December at 12.30pm.

Directions to the National Maritime College of Ireland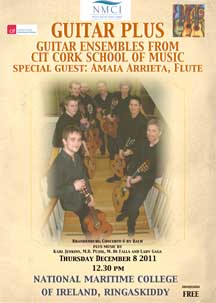 The National Maritime College of Ireland is hosting a free lunchtime concert in this wonderful building with Guitars Plus.
Guitars Plus are a collective of classical guitarists who are senior students of the CIT Cork School of Music. This event promises to be an exciting lunchtime concert of virtuoso playing by some of Cork's finest classical guitar players. They will be joined by special guest, Spanish flautist Amaia Arrieta, who is a student at the National Maritime College of Ireland.
The programme is a real feast of great music, featuring works by well-known composers like Karl Jenkins, J.S. Bach, Manuel De Falla and contemporary pieces by Lalo Schifrin, John Lennon and even Lady Gaga!


As well as various duet performances there will be a rare opportunity to hear the 10 member Guitar Plus Guitar Orchestra. The event will be introduced by Jerry Creedon who is an outstanding guitarist in his own right and lectures in Guitar Studies at CIT Cork School of Music.
The concert is free of charge and begins at 12.30 p.m.
This concert is hopefully the start of many musical collaborations between the different disciplines and colleges within CIT.