CIT and Cork City and County Councils create new Water Technology Group for the Cork Region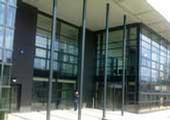 Published on: Wednesday, 07 December 2011
A new Innovation Hub to address Ireland's water infrastructure will be launched in the Nimbus Centre, CIT Bishopstown campus on Thursday 8th December. The Water Systems and Services Innovation Centre (WSSIC) is a joint venture between Cork City Council, Cork County Council and the Nimbus Centre. The WSSIC aims to create an expert resource in modernizing Ireland's water infrastructure by taking advantage of Nimbus' technological knowledge and leveraging both Councils' experience in Water Resource Management.
The WSSIC plans to harness state-of-the-art technology in water quality monitoring, leakage reporting & repair, remote monitoring and much more. The resulting innovations will be rolled out across Cork city and county with a view to deploying to all city and county councils in Ireland. With this, the WSSIC will seek to become internationally recognised as a hub for innovation in water-based systems and technologies. Alongside more efficient water services and monitoring processes, the WSSIC will be used as a catalyst for the creation of Irish-based enterprise and jobs.
Cllr Tony Fitzgerald, Deputy Lord Mayor will represent City Council at the launch, "The creation of this Innovation Hub will help to provide better water services for the people of Cork and in doing so will create new industry opportunities and jobs."
Martin Riordan, Cork County Manager added "We need to look at new and more efficient ways of managing all the water and waste-water sites across the whole county. The key challenge will be to ensure that that all the sites can be managed efficiently through a centralised control system."
Dr Brendan Murphy, President, CIT, will be one of the main speakers at the launch. Dr Murphy says: "This exciting new initiative is an example of CIT's innovation ecosystem working for Ireland. Our goal is to take this into the communities nationally and create the kind of innovation that impacts on our daily lives."
The Nimbus Centre is equipped with state-of-the-art facilities and equipment for embedded electronic systems research, development and demonstration. The Centre's sixty-five researchers and engineers also focus on hardware, systems integration and networking in application fields such as energy, security and user interfaces.
This initiative is led by Dr Kieran Delaney, Lead Innovator with the Nimbus Centre.
Contact details
Dr Kieran Delaney
E: kieran.delaney@cit.ie
T: 021 433 5567