CIT Researchers receive €1m in funding from Science Foundation Ireland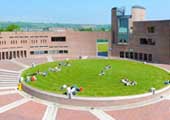 Published on: Monday, 12 December 2011
In the past month CIT researchers have been successful in 5 prestigious SFI funding programmes, worth a total value of €1.04million. These SFI grants strengthen the CIT Innovation Ecosystem which connects Institutional research to the regional, national and global marketplace by working closely with companies that range in size from startup through to SME and up to Multinational scale. The SFI grants also provide excellent opportunities for enhancing the education of PhD researchers within the research teams and their collaborators. The successful applications come from two of the Institute's Research Clusters - "Networked Embedded Systems (NEMBES)" and "Photonics".
The CIT Innovation Ecosystem is a concept developed in 2007 and the key to its success is the way it connects research, teaching and learning and collaborations with industry in an integrated manner. While each of the three Institutional Research Clusters performs cutting edge research to ensure they are at the forefront of knowledge generation in their domain speciality, they also employ specialised staff with a strong track record of research in an industrial context. Add to this a long established culture of working with industry in a two-way engagement and you have a potent combination that brings real impact to investment, whether that investment is made by funding agencies, CIT itself, or by way of industrial collaborators.
The 5 grants awarded by SFI are:
SFI Principal Investigator Grant – 1 award
This grant has been awarded to Dr. Guillaume Huyet (Photonics) to develop novel semiconductor lasers for medical imaging in close collaboration with an Irish SME, Superlum Ireland, and several international research groups. This grant is worth more than €675,000.
Technology and Innovation Development Awards (TIDA) – 2 awards
The first award goes to Dr. Martin Klepal (NEMBES) to develop a better understanding how ultra-wideband radio waves propagate indoors so they can be used for more accurate location tracking. This work will be carried out within the Institute's NIMBUS Research Centre which is Ireland's only research centre devoted to the field of embedded electronic systems.
The second award goes to Dr. Guillaume Huyet and it will enable the Photonics researchers in his team to develop new light sources for machine vision applications. This work will also be carried out in collaboration with Superlum Ireland.
Walton Fellowships (Visiting Professorships) – 2 awards
The first award goes to Prof. Sajal Das, Director, Center for Research in Wireless Mobility and Networking and Distinguished Scholar Professor at the Department of Computer Science and Engineering at the University of Texas at Arlington. Prof Das will be hosted by the CIT NIMBUS Research Centre. The research programme focuses on developing cost effective technologies that are capable of detecting the occupancy and activity of people in buildings in order to assist building control to significantly reduce building energy consumption.
The second award goes to Dr. Andrei Vladimirov, presently at the Weierstrass Institute in Berlin. Dr Vladimirov's work will complement the experimental research of the Photonics Cluster by carrying out theoretical work that will lead to a better understanding of how to generate short pulses of light that are then launched into fibre optic cables. The work will address what is probably the strongest limitation on the performance of today's communication systems imposed by the so-called timing jitter – a random variation of the time interval between successive pulses.