Deirdre McLoughlin exhibits at the CIT Wandesford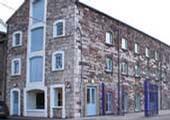 Published on: Wednesday, 28 March 2012
CIT Wandesford Quay Gallery is a space that connects the Crawford College of Art & Design, as part of the Cork Institute of Technology, to the broader cultural community.

Deirdre McLoughlin whose solo ceramics show begins on Friday 30th March.
SOLO CERAMICS SHOW AT CIT WANDESFORD QUAY GALLERY
"Shaping the Void" opens at CIT Wandesford Quay Gallery in Cork on Friday, March 30th. This solo show, by artist Deirdre McLoughlin, is her first exhibition in Cork.

"Shaping The Void" is the outcome of 3 years work for this Dublin-born artist who is based in Amsterdam. McLoughlin's unique, world-class, ceramic sculptures have gained her international renown and her current show is a National Craft Gallery touring exhibition.

"I remember my first encounter with a piece of work by Deirdre McLoughlin, being struck by its charged intensity," said Ann Mulrooney of the National Craft Gallery. "My response hasn't changed in the years since - her work continues to have a physical presence that is disproportionately greater than its scale. She spends time with each element of the work – as much as is necessary - and the end result is work of extraordinary power and purity.
It is a great pleasure to be able to bring this work to Cork."

After graduating from Trinity College, Dublin, McLoughlin studied in Amsterdam before moving to Japan to work amongst the influential avant-garde Sodeisha artist group in Kyoto. Based in Amsterdam since 1988, she works in a solitary city-centre studio, producing outstanding work which has gained a world wide reputation. Last year a piece by McLoughlin was selected to appear on An Post's issue of a special series of five stamps celebrating contemporary craft to mark Year of Craft 2011.

"Shaping the Void" at the CIT Wandesford Quay Gallery, Cork is open from 10am - 6pm Tuesday to Saturday until May 5.
Admission is free.

| | |
| --- | --- |
| Big Nose | Black Madonna |
| Little Bear | Red Life |
21st February
CIT Wandesford Quay Gallery will host International Art After Dark, the closing event for International Student Day.
14th February
Valentine's Day inspired us to create a different atmosphere in the gallery. The Masquerade Ball is open for all the community to dress up and dance. No admission fee, but donations to the Irish Heart Foundation are welcome. DJ Mike Darcy will fill the gallery with music 8 -11pm.
To RSVP or for further information:
please contact Tina O'Sullivan 087 7826500 | Tom Dalton 086 1676644 | CIT Wandesford Quay Gallery 021 4335210 | ccad.gallery@cit.ie
http://ccad-research.org/gallery
www.facebook.com/WandesfordQuayGallery
11th February
The exhibition is open from 10am to 6pm Wednesday to Sunday until March 1. 

DrawnOVERdrawn is presented by CIT Crawford College of Art and Design Wandsford Quay Gallery, Cork in association with THE DRAWING PROJECT, Dun Laoghaire Institute of Art, Design and Technology.


It is a new exhibition of drawings that opens at CIT Wandesford Quay Gallery in Cork on Saturday, February 11, 2012.

 The exhibition is curated by James L Hayes, CIT Crawford College of Art and Design Lecturer and Visual Artist. His aim was to have four very different contemporary artists engage with Ireland's physical and economic landscape through the medium of drawing.

 The artists are Chicory Miles, Malcom McClay, Rian Kerrane and Eric Waldemar. All are American.


The opening reception is Friday, February 10, at 7pm.
Curator James L Hayes says:


Drawing can be thought of as the ground from which all other arts originate as the origins of ideas are often realised in drawing before being translated into other mediums. For the artists in DrawnOVERdrawn, drawing comes out of a multi disciplinary practice as a tool that aids the thinking process. The four artists in this show are all resident in the U.S, however, the works shown here are made in response to Ireland's physical and economic landscape.


DrawnOVERdrawn comes at a time when Ireland is severely overdrawn on its accounts, and this exhibition's title refers to this situation.
Kerranes work incorporates the actual material iconography of Banc Na hÉíreann within a matrix that brings to mind puzzles and games, combining corporate iconography with objects from the intimate daily life of Irelands people. McClays work also confronts the fallen condition of the Irish economy in drawings that emerged from his photographs of some of the thousands of abandoned building sites that litter the Irish landscape. While these artists engage with the economic crisis, Louisiana-based Chicory Miless watercolors speak of recovery, giving graphic form to Irish landscapes that are growing back from devastating fires.
Colorado artist Eric Waldemars works refer to the overdrawn in a different way, engaging with the mystical depth and misty horizons that have drawn artists to Ireland for centuries. While Ireland's landscapes and half-glimpsed fairy folk are so over-drawn as to border on cliché, the spiritual depth of the Irish land has a continuing resonance.

Preparatory drawing often gives visual form to an artists thought process and it is through this activity that intentions and concepts may be first realized. This exhibition brings together four very different contemporary artists who have diverse practices, but come together under a shared desire to explore similar or common themes or concepts, through their unique drawing methodologies and practices.




Information on artists:
| | |
| --- | --- |
| | The drawings of Chicory Mills recall Audubon's botanical studies while drawing on sources ranging from mythology and early medicine, to contemporary developments like cloning and genetic engineering. Her work has continued to evolve and deal not only with biotechnology but also with technology and its larger environmental, cultural, and social ramifications. 

www.chicorymiles.com

 |
| | Malcolm McClay's drawings capture current politically charged icons through a rich range of media. The work features architectural models floating on landscapes of texture that capture the idiosyncrasy of social habits and actions. FEMA trailers in post Katrina Louisiana to food products and prisons are all subject for McClay's renderings.

 www.malcolmmcclay.com

 |
| | Eric Waldemar works with film, print and drawing. Influenced by his friendship with Stan Brackage Waldemar is an abstractionist, an explorer of subtly in any chosen medium. Returning to the sketchbook, he is currently allowing a visual stream of consciousness and awareness of surroundings translates from head to hand onto paper using graphite and watercolour.

 www.ericwaldemar.com/

 |
| | Contemporary archeology is a title Rian Kerrane applies to her creative process. Her works are often directly on the wall and mimic wallpaper. Thematically Kerrane explores recognisable images and represents the lowbrow in a new light. She explores the artificial boundary between two-dimensionality and the viewer's space and interprets her installations using tactile form and pattern as drawing. Her focus in domesticity is a natural extension of feminist principles.

 www.riankerrane.com/ |