CIT APP-rentice Competition 2012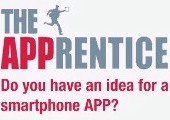 Published on: Thursday, 16 February 2012
We want YOUR ideas as part of Innovation Week 2012. You could win an IPAD2 or cool runner up prizes. You don't need to be a programmer or a techie. You don't even need to own a smart phone!! You just need a good APP idea.
Submit your idea or even a group idea on www.cit.ie/apprentice for your chance to win. Ideas will be reviewed by a panel of lecturers and industry leaders. It's all part of the fun of Innovation Week so get your ideas coming in.
The APPRENTICE competition is proud to be part of CIT's Innovation Week buzz by inspiring CIT students to come up with great APP ideas.
For more information please visit www.cit.ie/apprentice