CIT Students Strive 'Towards Creative Entrepreneurship'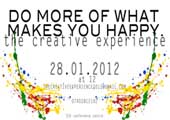 Published on: Sunday, 05 February 2012
A group of students from CIT travelled recently to Southampton, England to take part in an innovative, EU-sponsored programme of study aimed at encouraging a culture of entrepreneurship among students from a range of creative arts disciplines.
Entitled 'Towards Creative Entrepreneurship', this Erasmus Intensive Programme was hosted by Southampton Solent University, England and brought together students from six European countries with the stated aim of promoting business acumen and entrepreneurial know how among students intending to pursue careers in the creative industries.
This two-week programme of intensive study and practical learning allowed the 40-plus students to share experiences, points of view and learn together about entrepreneurship and business planning.
The eleven CIT students, hailing from the Bishopstown campus, the CIT Crawford College of Art and Design and the CIT Cork School of Music, came from a wide range of courses of study including Art, Music, Multimedia, Business, Horticulture, Public Relations, Business Information Systems, Ceramics, Fine Art, and Graphic Design. They joined thirty students from similar backgrounds from Finland, Estonia, Norway, UK and Russia for the twelve day programme.
From the outset, the students worked in small multi-discipline, multinational groups generating business ideas with a view to developing new products and services in the creative industries sector to sell to paying customers. Students learned by doing through a series of interactive lectures, group discussions and workshops. They also carried out market research to identify target markets and negotiated with suppliers, retail outlets and the media throughout the process.
Business ventures established in the limited time frame included: a children's book, a spa in a bag, , an alternative range of valentine cards, a create-away – a chance to explore your creative side through a performance of art and music, Ealain – A music and arts festival and a specialized t-shirt company.
Students were joined by staff members Gerard O'Donovan, School of Business; Emmett Coffey and Frank O'Donovan, Department of Media Communications; and John Sheehy and Isabel Rossiter, CIT student enterprise interns.
Ensuring it wasn't all work, the UK hosts organised a full schedule of social and cultural activities for the students which included a trip to a Southampton football game and also a cultural trip to London.
"It was a very positive experience for students that focused on learning by doing, the programme took them out of their comfort zone and gave them an understanding of what opportunities are available in the creative industries and how self-employment can be a viable option for them after graduation," said Gerard O'Donovan, Head, School of Business, CIT.
For more information about the programme, log on to www.tce.ie