Event: Feb 16,CCAD leads the way with the first pilot session 'Enhancing the First Year Experience'
Thursday, 16 February 2012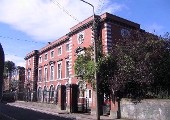 time: 11:30 - 15:30hrs / venue: Sullivans Quay
admission free / enquiries T: 021 4335200

Today sees the first in a series of pilot sessions on Learning and Education in Art & Design (LEAD), whose purpose will be to share practice among lecturing staff in the higher education art & design sector on the island of Ireland. The format will initially consist of a half day series of brief 15-minute presentations on specific themes in art & design education, followed by Q&A and discussion.
CIT Crawford College of Art & Design (CCAD) will host the first session, with its theme of "Enhancing the First Year Experience".
LEAD is established to investigate, develop and support contemporary art and design pedagogy; engendering discussion and exploring practice.
LEAD is open to educational providers in the field of art, design and creative media who wish to contribute through active participation in its remit.
LEAD is non-affiliated and comprises academics with a concern to explore and develop the student experience, taking part in focused and critical debates into the practice, theory and potential of art and design education.
LEAD is primarily concerned with study at undergraduate and post graduate level but will additionally engage with art pedagogy in earlier stages as part of providing a space to engage with the larger issues of arts education.