Irish Fiddler – Music Education App Launch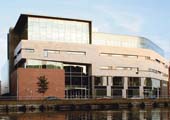 Published on: Tuesday, 21 February 2012
Fifteen year old Mairéad Hickey from Cork, winner of eight all Ireland titles for her fiddle playing and the current National Concert Hall Young Musician of the Year, has released a music education application called 'Irish Fiddler' for the iPad and iPhone/iPod touch. The application combines Mairéad's talent and love for Irish music with the latest technology to deliver an easy to follow method that enables students anywhere in the world to learn how to play traditional Irish tunes on the fiddle.
The application uses a combination of video tutorials featuring Mairéad along with colour coded printable music to support students as they learn how to play three well-known Irish tunes: The Kerry Polka, Britches Full of Stitches and Maggie in the Woods. When a student has mastered the three tunes, Mairéad demonstrates how to put the tunes together into a set or medley so that they can be played in a session and which any Irish dancer or music lover will enjoy. The application is ideal for anyone who can already play the violin, for those just starting out or if you just enjoy traditional Irish music.
Micheál Martin TD officially launched the 'Irish Fiddler' application in the CIT Cork School of Music on 20 February 2012.
Irish Fiddler can be downloaded here.

For more information, please contact Clare Hatcher irishfiddlerapp@gmail.com.

Micheál Martin, TD, Fiddle Player Mairéad Hickey and App Producer Marion Roche-Martin pictured at the Irish Fiddler App Lauch at the CIT Cork School of Music. Picture by Pascal Ungerer.
The idea and development of the application took place in Cork. Mairéad has been a student of CIT Cork School of Music since 2003, DeCare Systems Ireland (DSI) completed the application development, the video was shot and edited by StandPoint Media and Marion Roche Martin, a former CIT student, produced the application.

The application was released worldwide on the Apple App store on Dec 14th and it is already attracting interest in Europe, the US and Asia.